Bono bests Bezos in Fortune's 'World's 50 Greatest Leaders' list
That Apple CEO? #33. The US president and UK prime minister? M.I.A.
---
Fortune has published its list of the worthies they deem to be the "World's 50 Greatest Leaders", and the tech world is represented in the top 10 not by a Zuckerberg, Page, Ellison, or Brin, but by Amazon's Jeff Bezos, whom Fortune describes as "an extremely rare combination of visionary and master builder."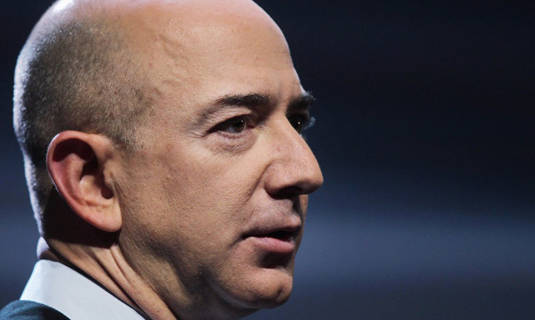 Top tech dog ... Jeff Bezos
The compilers of the list are less than specific in describing their criteria for inclusion in the pantheon. "In an era that feels starved for leadership," they write, "we've found men and women who will inspire you – some famous, others little known, all of them energizing their followers and making the world better."
We will humbly ask you, dear Reg reader, if these top 10 inspire you. Along with our definitions of their roles in this era starved for leadership, they are as follows:
Pope Francis – Pope [Duh.—Ed.]
Angela Merkel – Chancellor, Germany
Alan Mulally – CEO, Ford Motor Company
Warren Buffett – Squillionaire and CEO, Berkshire Hathaway
Bill Clinton – Husband of Hillary Clinton
Aung San Suu Kyi – Activist and Nobel Peace Prize winner
General Joe Dunford – Commander of US Forces, Afghanistan
Bono – Aging rocker
Dalai Lama – Peripatetic Tibetan spiritual leader
Jeff Bezos – CEO, cloud 'n' shopping giant Amazon
Of Bezos, Fortune reports: "Prospective employees are still drawn to his vision; though he's highly demanding, thousands aspire to work for him. That's one way to know a great leader when you see one."
Perhaps – but his greatness only places him one short step above number 11, New York Yankees shortstop Derek Jeter, "the type of role-model player that even a Red Sox fan must grudgingly respect."
Coming in at number 16 is the next techie on the list, and a man who also founded an online shopping empire: Jack Ma, executive chairman of Alibaba. Interestingly, Alibaba has higher revenues than Amazon and eBay combined, Fortune notes, so raw revenue rake-in doesn't appear to have been a deciding factor in their rankings.
US tech titans are notably absent from the remainder of the list, with Apple CEO Tim Cook coming in at 33 and YouTube CEO Susan Wojcicki ranking 42 in a list that also includes three basketball coaches and the head coach of Johns Hopkins University's swim teams.
As for Bezos, it's unlikely that his ego needs more enhancement – but should this new honor tempt him towards heightened haughtiness, he only needs to look two slots above his name on the list to see that he was bested by Dr. Robert from Across the Universe, the man who uttered the immortal line, "We're navigators, we're aviators, eatin' taters, masturbatin' alligators, bombardiers, we got no fears, won't shed no tears, we're pushin' the frontiers of transcendental perception."
Are we feeling inspired yet? ®