Cleversafe tweaks dsNet, broadens ClevOS support
Let us penetrate your data centre
---
Object storage startup Cleversafe, which updated its dsNet hardware and software in December last year, has updated its software again, and added to its certified hardware and protocol roster.
It has:
Certified its dsNet technology on two HP ProLiant Gen8 servers;

ProLiant SL4540 Generation 8 (Gen8) server as a Slicestor appliance
ProLiant DL360p Gen8 server to run the Dispersed Storage Network (dsNet) Manager and Accesser

Updated its software to ClevOS 3.2

This adds the ability for a customer's preferred monitoring application to access the dsNet statistics used by dsNet Manager, via SNMP or a RESTful http interface
Integrates with syslog, the industry standard for computer message logging, fitting in with customers using syslog already
Network traffic management capability so traffic for each dsNet appliance can be routed on up to three separate networks
Support for LDAP directory services
Added OpenStack Swift support to existing S3, HDFS and Cleversafe APIs
The Swift support makes dsNet adoption easier by removing obstacles when this standard is already supported by a customer, or going to be supported. ProLiant support makes for an easier entry into HP shops.
Although HP has its own Ibrix-based StoreAll 9000 object storage technology, Yogi Barman, Director of Strategic Alliances for HP Servers, said: "The HP ProLiant SL4540 and DL360p Gen8 servers combined with Cleversafe's dsNet object-based storage technology enables clients to address their growing data challenges with a highly reliable solution that can easily scale out to meet Petabyte-scale data demand without impacting performance."
That's a nice canned quote.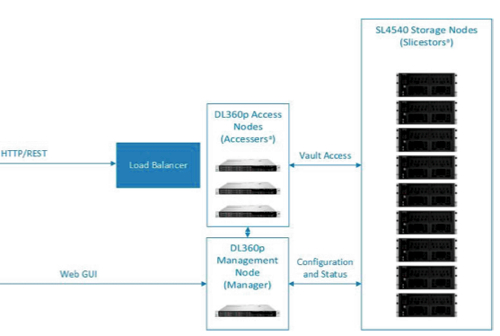 Cleversafe dsNet SW running on HP Servers
The v3.2 software software support for syslog and LDAP, for system monitoring function access, and the separate network support should also ease dsNet adoption by potential customers as well as please existing ones. It's all about removing obstacles to object storage adoption. ®
Similar topics
Narrower topics