Gartner gurus: Storage array market GREW at the end of 2013
Don't forget that came after an abysmal third quarter
---
Number-crunchers Gartner's external storage market gurus reckoned it returned to year-on-year growth in the last quarter of fiscal 2013.
According to Gartner: "Worldwide external controller-based (ECB) disk storage vendor revenue totalled $6.3bn in the fourth quarter of 2013, a five per cent increase from $6.0bn a year ago."
Gartner research VP Roger Cox said: "Following an abysmal third quarter, the fourth quarter of 2013 returned to growth. Driven by pent-up demand and the year-end budget flush phenomenon, the market overcame a fragile global economy and grew a strong five per cent over the same period in 2012."
The tabular gurus detail vendor shares in this table: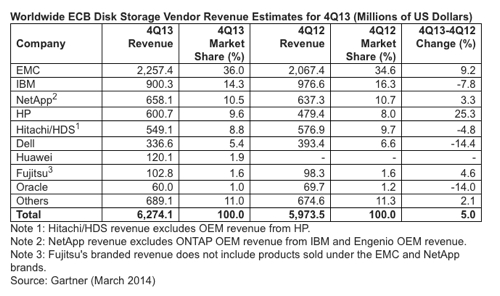 Gartner ECB disk storage market Q4 2013.
This is more detailed than the equivalent IDC storage tracker tables since it includes numbers for Fujitsu, Huawei and Oracle, which are included in IDC's 'Others' category. However Gartner puts out its storage tracker numbers to the great unwashed at irregular intervals and we don't have numbers for the third and second 2013 quarters, or the third 2012 quarter - which means we can't get a picture of the quarterly changes.
Over the year from the fourth 2012 quarter to the fourth 2013 quarter the table above shows the changes in vendor positions, and we can note:
Fujitsu and NetApp had year-on-year revenue gains
NetApp's revenue share declined from 10.7 to 10.5 per cent,
NetApp achieved above-market results due to the increasing traction of Clustered Data ONTAP
EMC and HP beat the year-on-year market growth rate in the fourth quarter
Propelled by broad acceptance of the HP 3PAR StoreServ and the StoreOnce disk-based backup platforms, HP led all surveyed vendors in year-on-year revenue growth
EMC benefited from the success of its VNX and Data Domain product refresh offerings
Fujitsu continues to make gains in the EMEA area
A year-on-year comparison isn't possible for Huawei. Oracle's revenue share declined 0.2 per cent while Dell's slumped from 6.6 to 5.4 per cent. IBM's slumped even more; from 16.3 to 14.3 per cent. Hitachi/HDS' share also fell, from 9.7 to 8.8 per cent. A rising tide is not lifting all boats. ®