5 Eyes in the Sky: The TRUTH about Flight MH370 and SPOOKSATS
Just when you thought you were alone in the bath...
---
Comment That the US and other nations operate spy satellites capable of taking very detailed photographs of Earth is not in doubt. But the idea that those satellites have been pressed into service to find downed Malaysian Airlines flight MH370, and that it is therefore possible to infer some of the satellites' capabilities, is very debatable.
That's not stopped some of the media from suggesting that the reason Australia's Maritime Safety Authority did not mention the source of the images it used as the basis for its decision to explore the Southern Ocean, was because to do so would reveal that they came from a military satellite.
In these post-Snowden days, such hints are serious stuff. The public knows a lot more about the scale and scope of US surveillance efforts than it did this time last year. Interest in such information remains keen.
But speculation the candidate MH370 debris was found by spooksats is obviously dubious, because the images ASMA has released are clearly marked as having their copyright assigned to DigitalGlobe, a US-based outfit known to operate at least three imaging satellites and which last year boasted it can, on request, photograph anywhere on Earth every 12 hours.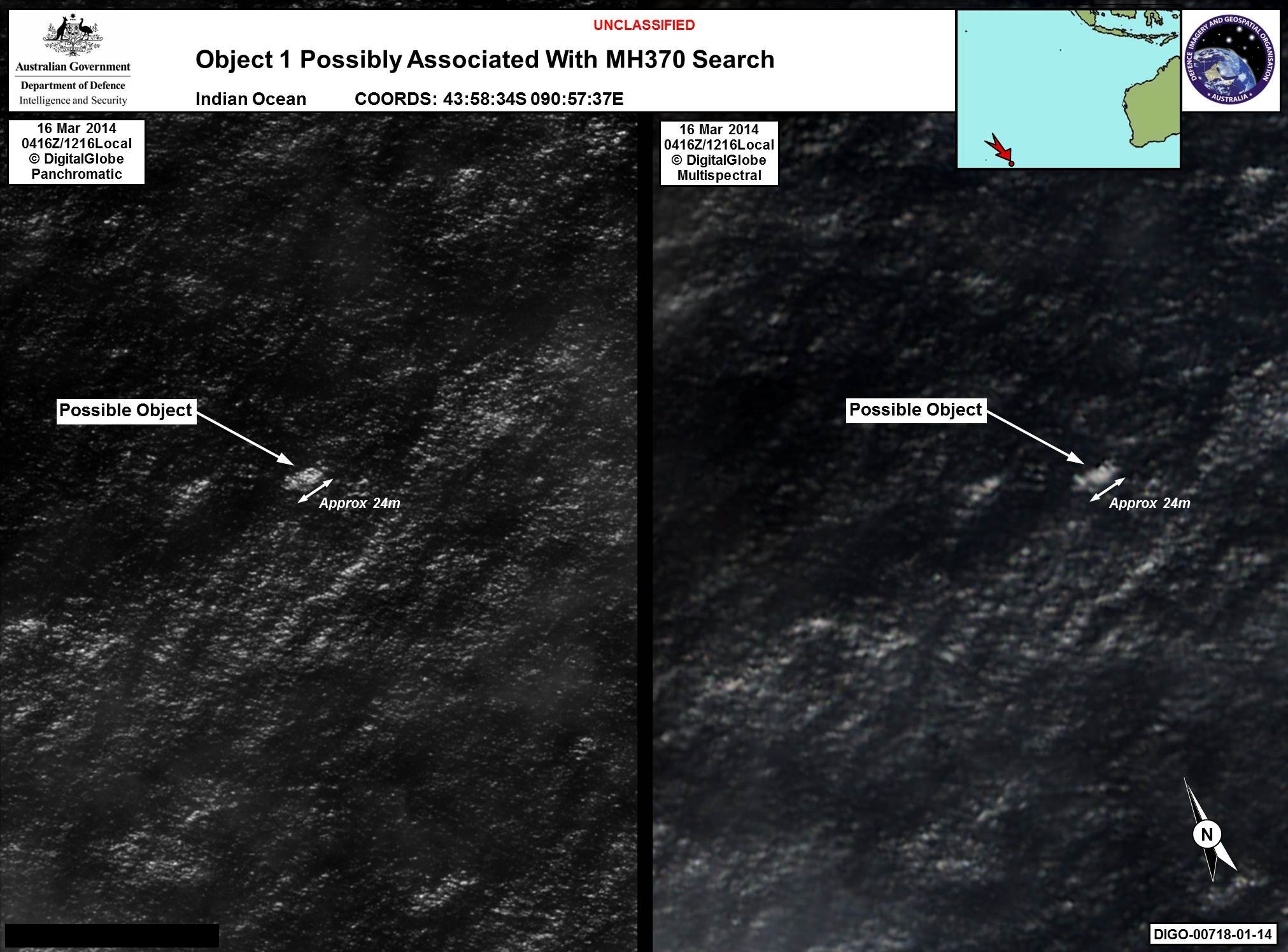 The satellite image analysts believe may be MH370 debris. Click here to see at a larger size.
Also a well-established fact is that the US imaging satellite operators like DigitalGlobe are prevented from letting the public access the highest-resolution photographs their craft can capture. Those restrictions are made by the US government and DigitalGlobe appealed against them in September 2013.
As this report to a US Senate committee illustrates, that request has been taken seriously, largely for commercial reasons:
The Committee understands that a commercial data provider has requested licensing approval to collect and sell on the open market, electro-optical imagery with a ground sample distance of 0.25-meter. Recognizing the ability of U.S. commercial imagery providers to contribute more substantially to the national security mission at a lower cost point, and consistent with the U.S. policy of enabling U.S. companies to maintain a leadership position in this industry, the Committee encourages the GEOINT functional manager and the DNI to promptly review this licensing request. The Committee is concerned that foreign commercial imagery providers may soon be able to provide imagery at or better than the currently allowed commercial U.S. resolution limit of 0.5 meters. As foreign firms approach or surpass this level of resolution, current restrictions on U.S. commercial imagery data providers put the United States at a competitive disadvantage and may harm an industrial base that is important to national security.