Reg tries out Google's Chromecast: Yep, we even tested smut sites
For 30 quid, you might as well...
---
Delayed gratification
With this all done and dusted and Chrome plus extension installed on computers, along with Google Cast apps on iOS and Android, you're good to go. Compatible apps show themselves with the Google Cast icon appearing in view somewhere. On Chrome, it's on the right of the navigation toolbar.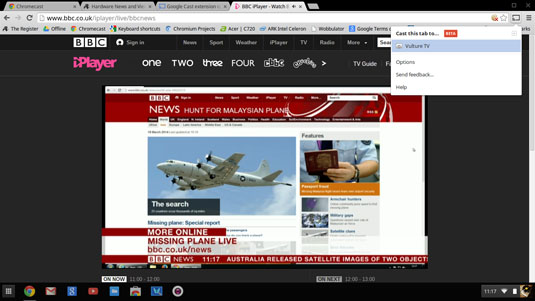 BBC iPlayer Google Cast from Chrome browser – click for a larger image
I kicked off testing with an Acer C720 Chromebook – I used it to set everything up and was keen to see how a browsing experience would appear. Funnily enough, the mouse cursor disappears from the main screen and when you scroll from the computer there's a delay of just over a second for the TV to catch up.
Actually, there are delays all over the place, initiating a Google Cast takes around six seconds and other devices can take over control, again with delays, by simply by choosing to Google Cast to the Chromecast dongle – its name appears in the pop-up window and you'll see it as Vulture TV in all the images here.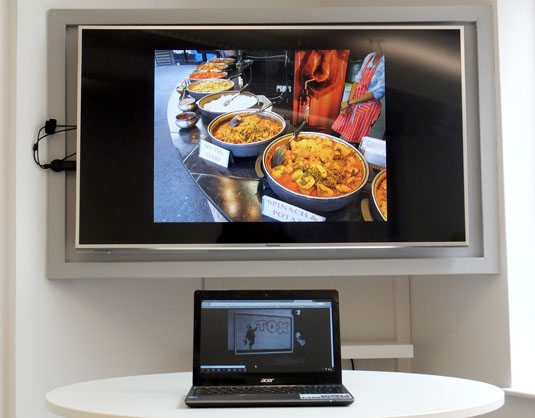 Google Casting Picasa from an Acer Chromebook: the delay between slideshow images can become a problem
The handover is quite impressive but it appeared to be more successful if you were closer to the Chromecast dongle than the current streaming device. Using Picasa to stream a slideshow, I noticed a number of photos were skipped as the changeover, every three seconds, appeared to be too rapid for the Chromecast to keep up with.
Evidently sourcing content from the cloud – be it personal or commercial – is the main focus of Chromecast, but there are apps that can handle things locally. Plex can manage this but requires some additional tinkering with the free Plex Media Server being a prerequisite to instal on your computer or NAS box.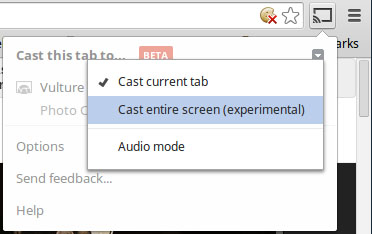 The experimental Google Casting the desktop is tucked away in a drop down menu
I discovered Photo Caster, though, which is simplicity itself and a great way of playing out images from your phone to Chromecast. It includes a slideshow with transitions too which didn't suffer any obvious delays or skips, although the crossfading was a bit weak – but hey, it's free.
On a computer, the Google Cast Beta control panel has an experimental section that enables the whole desktop to be viewed via Chromecast. I ran a Vevo video this way and had sound coming out of both the computer and the TV, before it crapped out, but the latter's audio was breaking up badly and, of course, delayed.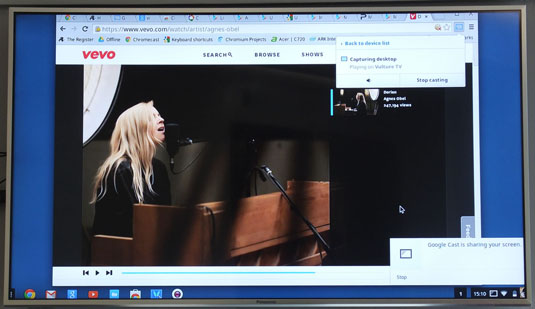 Google Casting the desktop doesn't properly work with audio yet – click for a larger image
I tried a desktop cast on the Mac desktop too, and despite getting an .MP4 movie to show full screen, there was no sound. Likewise, internet radio audio from iTunes couldn't be heard either. Still, it's a beta feature and hopefully better AV support will follow in due course. For now, you can play your PowerPoint presentations to the kids.
One way around the problem of local file playback is to simply drop the file into the URL field. However, to get a satisfactory playback you need a very robust connection to the Chromecast.
In the office, where access points abound in the building, this method was unwatchable, even though the office Wi-Fi kit was only one room away. I'd also used the HDMI extender to avoid the TV panel obstruction but all I could manage to play this way without fuss was an MP3 audio file.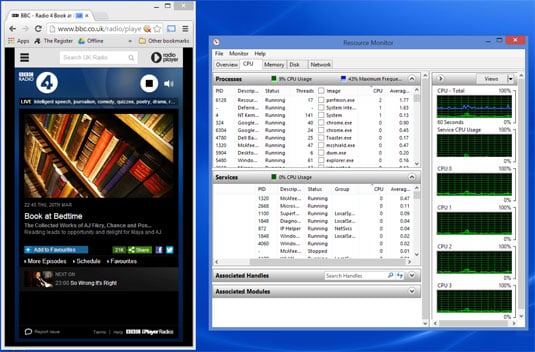 Google Casting with iPlayer radio: note miniscule CPU load on right – click for a larger image
And talking of audio, I didn't fancy buying into Google's Music service and decided to give Pure Connect a try instead, which did work, casting audio from the Chrome browser. Even though radio doesn't work from the BBC iPlayer app, it can work from the browser too. However, the pop-out window for radio playback lacks the Google Cast icon, so you just have to paste the URL back into a normal tab and set it up from there.