Reg tries out Google's Chromecast: Yep, we even tested smut sites
For 30 quid, you might as well...
---
Technical hitch
At home, after failures to get a reliable connection from two different access points around the house, I decided to set up an HDMI monitor with the Chromecast with a Wi-Fi box inches away from it. I also plumbed in a Mac to an Ethernet port on the same box and the Chromecast was identified from the Chrome browser without any problems. This time drag-and-drop playback of a 1080p movie to the browser and then cast to the monitor was perfect.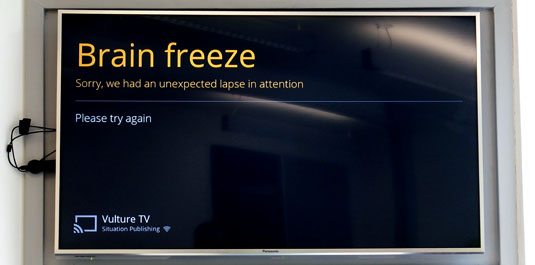 Google Casting local files doesn't always go as planned
And that's the operative word here. If you're doing video Google Casting from a computer, you need near perfect connection conditions. Further tests with Vevo were far from smooth from a browser tab. Likewise, the BBC iPlayer was jerky with occasional pops in the audio stream. Incidentally, the BBC iPlayer Twitter feed has been reporting problems these last few days, which appear to coincide with the UK launch of Chromecast. Uncanny.

BBC iPlayer Twitter feed confesses to technical problems that have dogged the service in recent days
Now, these playback issues are all computer related, but the phone and tablet experience is a very different story. The same music video played from the Vevo app on an Acer Iconia A1 tablet was silky smooth. Similarly, BBC iPlayer content from an Apple iPhone 4S was glitch-free.
Assuming that computing and mobile platforms are being fed streams at different bit rates, my guess is Chromecast doesn't like the higher bit-rate versions the computers are channelling. And if you're thinking of running the HD iPlayer stream from a browser with your Google Cast configured to 720p (high bit-rate), forget it. There's no significant difference in image quality and the playback constantly pauses and stutters, and this is down a 100Mb/s Virgin Media connection.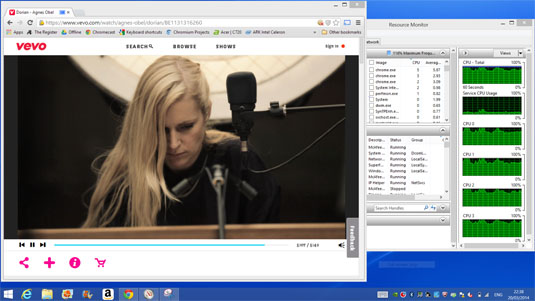 Google Casting video from the Chrome browser can be CPU intensive – click for a larger image
The computers themselves are also involved in some heavy lifting if CPU monitoring of a Vevo stream is anything to go by. Both Mac and PC have 8GB RAM here and while the former has an Core 2 Duo CPU, the latter, a Dell Inspiron packs a Haswell Core i7 chip. And yet the mobile platforms are very relaxed about video which shows in their performance with Chromecast, so this is surely the way to go for glitch-free playback.
One good reason for using a computer with Chromecast is that you can open other tabs and continue browsing or even run other apps. The Google Casting tab does not have to be in the foreground on the machine itself. Another reason is that sites of interests to an adult audience can be relayed to a big screen. No doubt Chromecast's potential as a panel Pornthruster didn't escape the notice of the folks at Google.
Google Casting local video without additional apps needs a decent Wi-Fi connection to work smoothly
In the interests of research I discovered that ImageFap wouldn't show anything, YouPorn was quite happy to relay video from a Google Cast tab and xHamster slideshows would also play out nicely. You'll have to do battle with pop-ups though. While I'm sure there are smut site apps for mobile devices that take care of these things, whether the porn biz will be rushing to update them to offer Chromecast compatibility remains to be seen.
There is one final trick to Chromecast though and that is to build websites optimised for Google Casting, where much like the mobile apps the Cast icon can appear anywhere on the page. YouTube is the prime example and from the transport bar you'll find the Google Casting icon. NetFlix supports this too, as do other Google Music and Movies services. The differences are documented here and detail how the handover when casting can become independent of the initiating computer all together, which can even be turned off. Time will tell if other sites will follow suit in offering this level of functionality.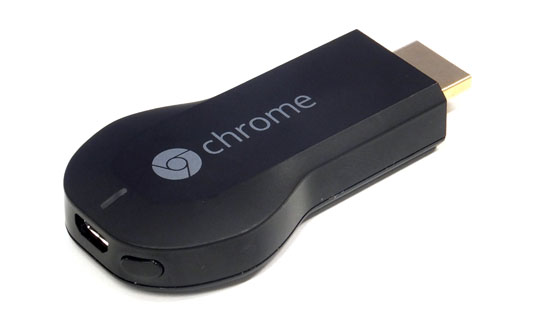 Google Chromecast – the printer ink of the cloud connected home?
The Reg Verdict
Overall, the Chromecast is very much a get-what-you-pay-for device. In use, it appears particularly sensitive to signal strength and even moving around a room can affect its performance. YouTube was the most resilient playback channel and for best results, forget streaming HD video from a computer, but use your mobile or tablet instead for online sources.
Local file playback is possible but rather cumbersome, so if this is important to you, you'll probably be better off with a Roku 3 or wait for the new Streaming Stick. Those inclined to persevere can always set up a Plex media server or hope to find something suitable among the apps, but you may eventually give it all up to the cloud.
After all, this is what Google wants you to do, so it can sell you a load of storage space in the cloud for your content, because one day, you'll need it. This £30 dongle harks back to the days of cheap printers with overpriced ink. Feeding your bargain Chromecast could quite quickly become an expensive habit. ®

Reg tries out Google's Chromecast: Yep, we even tested smut sites
HDMI IPTV streamer dongle compatible with iOS, Android and the Chrome browser on Mac and PC.