Oculus Rift? Tchah, try 'Oculus Thrift' ... You bet your vrAse we tested these bargain VR specs
That and more trendy wearable tech in London
Pics If you thought dressing smartly had something to do with not wearing jeans, then the "smart" clobber at the Wearable Technology Show in London this month wasn't for you.
If you think it's about having as many ARM processors attached to your body as possible, well, then now we're talking. Cameras that you can pin to your lapel that take 2,000 pictures a day, motion trackers, 3D viewers, Google Glass-like devices. The technology to assimilate the world around you abounded.
Yet the most impressive device at the show contained no electronics. The vrAse is a case for a smartphone that turns the mobe into a virtual-reality headset. Slot the phone in, slide down a clip to keep it in place and strap the ski-mask-style device to your head, and you are immersed.
The raw idea dates back to Victorian diableries; an image for each eye with decent lenses gives a convincing 3D effect. What makes it so special is that it is so immersive.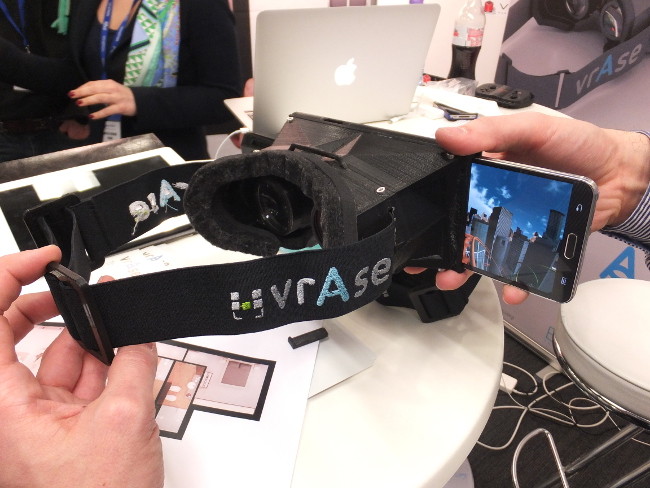 The vrAse prototype weighs less than the production model, which will be around 150g
The image feels IMAX huge and head motion tracking using the accelerometer in the phone allows you to look around very naturally.
Of course, VR headsets have been around for a long time, the industry flagship being the Oculus Rift, but that's dedicated hardware, still only targeted at developers, and costs $350. The vrAse will be under $100 (£60) when it ships in April.
It's not the first device like this. The German Durvois Dive is already shipping but the vrAse will take slightly bigger phones - over 5" - opening the way for higher resolutions. The best source of content is 3D movies, as you can't touch the screen for 3D games when they are in the headset, but vrAse did demo a game in which you piloted a spaceship by tilting your head. It makes you look very strange when your are playing it - but you're on your own holodeck, so who cares?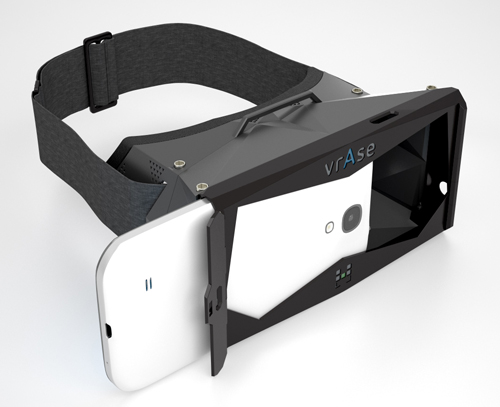 Another look at the vrAse ... smartphone strapped to your face
At the opposite end of the geek spectrum was Xensr, a sports tracker. It's a device which knows where it is to within 3mm, and can track movements in 3D space, sampling at 400Hz. They have been used in groups on different parts of an American football quarterback's arm to measure throwing forces.
The device is heavily ruggedised – strong enough to be attached to a tennis racquet – and water proof. There are two versions, one with GPS and the other which expects to use your phone's GPS. It's expected to cost $199 for the cheaper version and $249 with GPS. The first units will ship to developers in a couple of weeks with consumer devices – and hopefully a host of applications at the end of the year.
Xsenr is aimed at individual athletes, but for teams Statsports was showing its team GPS. This is a little like the Xensr but sold in batches to teams, including 16 of the 20 Premiership football teams, being used to locate the players on the field. Their software then allows coaches to monitor exactly how hard individuals are training.