Miserly investors toss $11m at storage upstart Amplidata
For an E-round. You might as well go busking with a trumpet
---
Is this thin investment provisioning in action? Object storage startup Amplidata has had $11m chucked at it to grow the business – a relatively trifling amount.
Amplidata develops and sells the AmpliStor object storage product, which is OEMed as Lattus by Quantum. It uses a component of its StorNext multi-tier file virtualisation software and positions it as an alternative to tape.
We're told Intel Capital led the round with participation from all existing investors, including Endeavor Vision, Hummingbird Ventures, Quantum, and Swisscom Ventures. That makes the average investment from all six less than $2m each. With backers like this, Amplidata could well think it's on a weight-loss diet.
This is the funding history so far:
2008 - Amplidata founded with, we understand, $2.5m seed funding
May 2010 - A-round of $2.5m from Big Bang Ventures
September 2010 - B-round of $6m
February 2012 - C-round of $8m from Big Bang Ventures, Endeavour Vision, Intel Capital and Swisscom
September 2012 - D-round of $6m from Quantum and Intel Capital, Swisscom Ventures, Hummingbird Ventures and Endeavour Vision
March 2014 - $11m E-round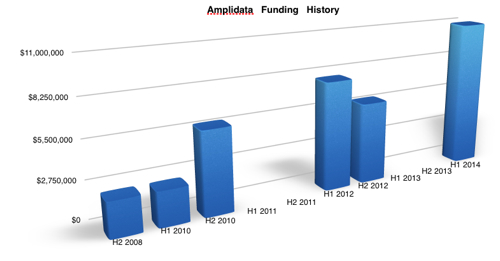 Amplidata funding history
That makes Amplidata's total funding $36m. The latest infusion will be used "to drive the next phase of growth by expanding its sales and marketing initiatives and investments in its research and development team to further advance true cloud-scale storage economics."
Competitor Cleversafe picked up $55m in D-round funding in August last year. Fellow upstart Scality received $22m in a C-round in June 2013.
Both payments make Amplidata look relatively under-funded and indicate it's growing more slowly than its main competitors with investors loath to fund it more generously. ®