This article is more than 1 year old
Google pulls SCHAFT out of military honeypot, sprays gold at bot team
DARPA's best unTerminator builders take web giant's coin
The team behind SCHAFT, the best-built bot so far in the DARPA Robotics Challenge, will stop dipping into the $1m prize pot it was awarded by the US military – and will instead rely on funds from its new owner, Google.
"The decision by Team SCHAFT to self-fund allows DARPA to expand the competition and further develop disaster response robots," said the challenge's program manager Gill Pratt in a statement.
"This expansion is similar to what happened after DARPA held the Virtual Robotics Challenge in June 2013, when some teams shifted resources and allowed us to increase participation. I look forward to seeing the results of efforts by our new finalists and new team."
SCHAFT won the first stage of the DARPA bot-building challenge in December: it beat the competition to create the perfect rescue robot in tests for crossing rubble, climbing ladders, clearing debris, and using a hose. A grand prize of $2m is available at the end of the year, with nearly as much in runner-up awards. The overall goal is to build a rescue robot to deal with emergencies in buildings and other human-built environments.
The finals of the competition, to be held this year, will require a robot to drive to the scene of an emergency in a standard truck, operate machinery, negotiate obstacles, break down doors and walls, and retrieve accident victims. That said, this is a military research project and other uses may be found for the technology.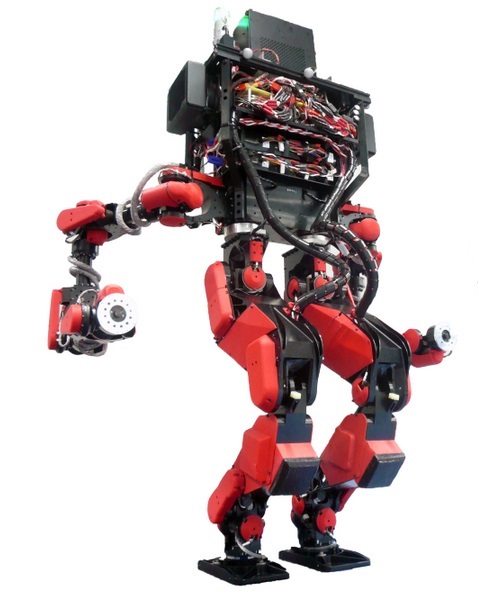 The SCHAFT droid ... for rescues only – honest
The $1m freed up from SCHAFT will now be split between two of the runners-up in December's competition: teams THOR and ViGIR. Another team, KAIST, was eligible but has also taken a self-funded route, although it will not be taking Google's coin.
SCHAFT, a largely Japanese concern, is one of nine companies bought up by Google as part of its ten-year plan to make robotics much more common. The Android operating system's founding father Andy Rubin has said he wants to concentrate on the logistics and manufacturing side of robotics, and has won over Foxconn to his campaign to replace the human with the mechanical.
Google's decision to shift SCHAFT to self funding is largely one of courtesy, rather than a rejection of the US military – SCHAFT's new owners aren't hurting for cash, and the web giant's executive chairman Eric Schmidt could cover at least a million using his lowliest credit card.
In the meantime, the move has enabled DARPA to spread the wealth a bit, and the military research wing will be happy to do so. Even self-funded entrants still have to license the technology on fair and reasonable terms to DARPA, and SCHAFT does look to be the best of the bunch in its unTerminator challenge.
Based on the competition so far, those fearing a robot apocalypse needn't worry – most competitors could be outpaced by a toddler, and still have to be tethered to a hefty power source. But science moves pretty fast these days, and the technology is coming on in (metaphorical) leaps and bounds. ®