Gartner has rated mid-range arrays in a report - Critical Capabilities for General-Purpose, Midrange Storage Arrays - which includes the expected mainstream vendors as well as three startups.
This marks the first time a reputable independent analyst agency has compared and contrasted mainstream vendor, niche supplier and startup mid-range storage arrays. Which niche vendor mid-range startup arrays get the Gartner nod? And how do they compare to the mainstream vendors?
Like the high-end array report this one uses a standard Gartner model that assigns a score to products between 0 (poor) and 5 (the maximum) for critical capabilities of the arrays: manageability, Reliability and Availability (RAS), performance, snapshot and replication, scalability, the ecosystem, multi-tenancy and security, and storage efficiency
Gartner's report writers say: "The arrays evaluated in this research include scale-up, scale-out, hybrid and unified storage architectures. … There are few "bad" storage arrays currently being sold, and none in the 14 arrays we have selected for inclusion in this research."
The 14 vendors - all included in Gartner's general-purpose disk array magic quadrant - and their arrays are these:
Coraid ZX/SRX
Dell Compellent
Dot Hill AssuredSAN 4000/PRO 5000
EMC VNX Series
Fujitsu Eternus DX500 S3/DX600 S3
HDS HUS 100 Series
HP 3PAR
Huawei S5000T/S6000T Series
IBM Storwize V7000
NEC M-Series
NetApp FAS/V32x0
Nimble Storage CS Series
Oracle Sun ZFS Storage Appliance
X-IO ISE Storage Systems
We have Coraid (Ethernet AoE arrays), Nimble Storage (hybrid arrays) and X-IO (sealed ISE arrays) compared with Dell, EMC, HDS, HP and IBM – the mainstreamers – plus Dot Hill, Fujitsu, Huawei, NEC and Oracle, all perceived as sub-mainstream or niche suppliers. How well do these three groups of suppliers and products compare?
Gartner presents the raw product critical capability scores in a stacked bar chart: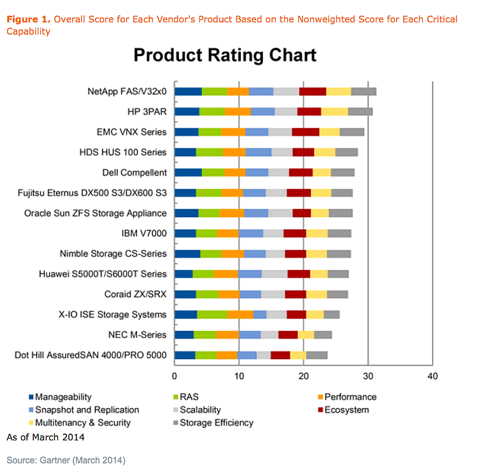 A weighting is applied to each critical capability for several use cases: consolidation, OLTP, server virtualisation and VDI, analytics, cloud and, lastly, overall. The thinking is that the value of weight of each critical capability varies between the different use cases.
For example, RAS is weighted strongly at 25 per cent in the OLTP use case but is 12 per cent in the server virtualisation and VDI use-case. Storage efficiency is weighted 25 per cent in the server virtualisation and VDI use-case but only 10 per cent in OLTP, analytics and the cloud.
Here's a copy of the weightings table: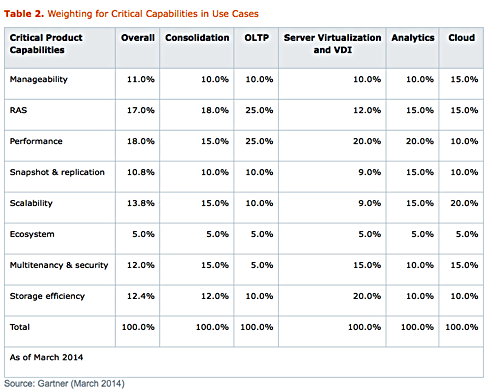 For each use case, the weightings and raw product critical capability values are multiplied to provide a view of how well the products are suited to each use-case. The result of this is tabulated and then charted for reach use case. Here's the table: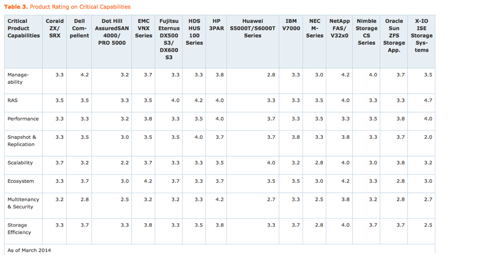 Gartner product use-case CC rating. Click the table for a larger, more readable version.
Gartner's report then presents charts for each of the use cases. We'll look at the overall one: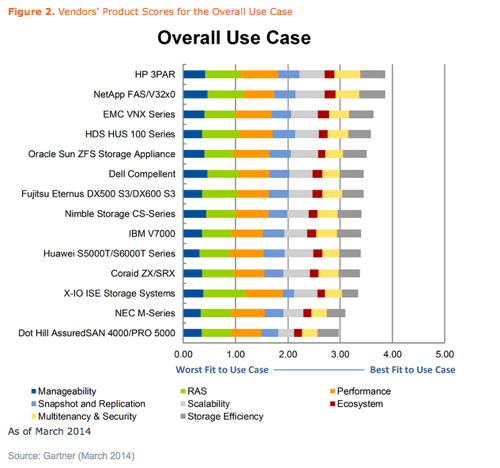 Chart conclusions:
HP 3PAR leads with NetApp's FAS 3200 second
EMC's VNX is in third place followed by HDS' HUS 10,
Oracle's ZFS appliance makes a strong showing in fifth place followed closely by Dell's Compellent product
Fujitsu's Eternus DX also makes a strong showing in seventh place and is closely followed by the unexpectedly strong Nimble Storage in eighth place
Coraid's Ethernet storage is grouped with IBMs Storwize V7000, Huawei's S5000T/S6000T products, and the X-IO array - surprisingly good for Coraid and X-IO - look at its RAS score - not so good for IBM but certainly respectable for Huawei.
The two tail-enders are NEC and Dot Hill, the latter having a good storage efficiency rating and NEC good performance and scalability.
HP and NetApp exchange the number 1 and 2 positions in the various use cases – with EMC always being third and HDS HUS fourth.
Gartner's recommendation is that you look at the individual use cases for the one that matches your requirement and then evaluate the arrays using your own criteria such as acquisition and ownership costs, service level objectives, vendor support capabilities and so forth.
The agency says:
The differences between arrays ranked at the top of the use-case charts and the arrays at the bottom are small and, to a significant extent, reflective of differences in design points and ecosystem support. Hence, array differentiation is minimal, and the real challenge of performing a successful storage infrastructure upgrade is not designing an infrastructure upgrade that works, but designing an upgrade that optimises agility and minimises ownership costs.
For more detail you'll have to buy a copy of the report from Gartner or go to one of the included vendors and try to blag a copy. ®
Similar topics