AMD has been showing off a new monster graphics card that it hopes will be one in the eye for Nvidia – and secure its fortunes in the face of a dwindling PC market.
The new W9100 carries whopping 16GB of DDR5 memory with a bandwidth of about 320GB/s, and can crunch through more than 5TFLOPS of single-precision calculations and 2.67TFLOPS of double-precision math – and they are designed to stack. David Cummings, general manager of AMD's professional graphics, told a press conference in Sunnyvale, California, today that this level of grunt from a GPU was a first for the company.
A single W9100 carries a half-dozen mini DisplayPorts and can run a 4K monitor out of each simultaneously. The card is designed to talk OpenCL, and AMD has been optimizing software from Autodesk, Dassault, and Adobe for use with the W9100 hardware.
"We've had it in the lab and we've seen some pretty astonishing results from it," said Al Mooney, product Manager of video editing at Adobe Systems. "16GB of RAM is just insane.
"It's kind of astonishing how many projects we're working on right now are going 4K, or even 5K or 6K, and some Japanese markets are asking for 8K. Anything that can drive these enormous frame sizes and keep the quality is very important."
Cummings said AMD has already lined up seven workstation builders to carry the new card, including Boxx, Supermicro, and Tarox. AMD is also publishing a set of system requirements for its new Ultra Workstation class of computer, which features up to four W9100, natch.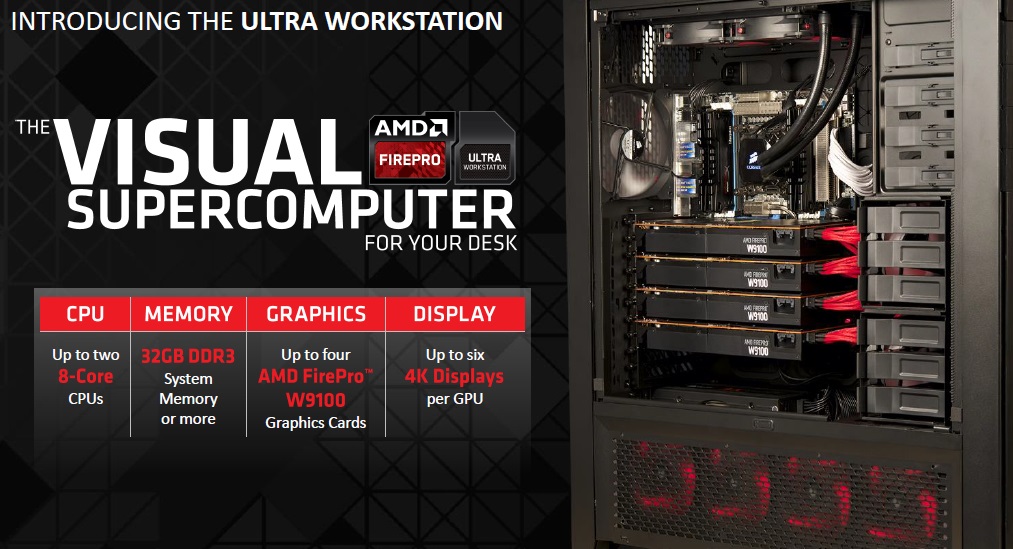 AMD Ultra Workstation ... It's not just a workstation, it's ULTRA! (click to enlarge)
Full specifications and pricing of the W9100 will be announced on April 7, the company said. On the latter point, given the its lowlier stablemate the W9000 costs a touch under $4,000, you can draw your own conclusions.
AMD is going to be spending a lot of time and money chasing the professional graphics and design market. Matt Skynner, GM of AMD's graphics business unit, told the press conference, that's mainly because the company is getting too much of its revenues from its PC market sales.
In 2012 sales to the PC box-shifters made up 91 per cent of AMD's revenue, Skynner said, and it was clear AMD needed to get some other revenue streams coming in from workstations and servers, embedded systems and ultra-low power chips. By 2015 the company wants half of its revenue to come from non-PC sales, and so far it's got it to around 30 per cent, he said. ®