A Facebook exec is so sick of drivers texting behind the wheel that he now photographs them and puts the images on billboards to shame them.
"I've been blown away by the number of people texting while in traffic, on the freeway," Brian Singer, manager of communication design at Facebook, told Gizmodo. "For every nose picker, there's 20 texters. Unofficial estimation by me."
The images come from the Texting While in Traffic (TWIT) project, a website Singer set up in February to shame drivers into putting down their phones while barreling along at high speed. Aside from displaying the images on 11 billboards around San Francisco, California, Singer also hopes to recruit others to submit their TWIT pics, and he said that if enough people join in then it may cause freeway texters to think twice.
El Reg would hope that those who participate don't take their photos while driving themselves, and Singer said all his shots were taken as a passenger. We can also see a few privacy problems in such panopticon vigilantism, but Singer said that he wasn't concerned about people's right to anonymity.
"I don't think people driving on 101 have the expectation of privacy," he said. "I could be wrong, but the police need to be able to see them using phones and breaking the law, so all I'm really doing is taking photos in a public place."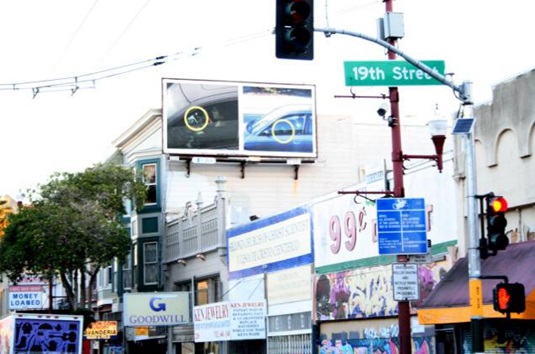 Hopefully the billboards won't be too distracting
Texting while driving is certainly illegal. Here in California there's a specific law [PDF] against it, with fines of $20 for the first offense and $50 for each subsequent infraction. That's not much when you consider drivers are taking their eyes off the road while piloting a ton of metal and fuel at 65 mph down the freeway, and it's not rare to see someone doing it on the state's roads.
The cops are cracking down a little, although not to the extent of their East Coast colleagues. In New York, unmarked police SUVs prowl the streets looking to catch drivers in the act – but with mixed results since it is legal to briefly look at the satnav feature on a phone while on the road.
Insurance investigators are also on the case. It's now common practice to request mobile phone logs for crash investigations and if you text "Traffic on Route 880 terrible #FML" seconds before a prang then pointed questions will be asked. ®