GTC Nvidia and VMware have announced that the graphics company's GRID technology is now available on the virtualization giant's desktop-as-a-service (DaaS) platform to deliver 3D graphics to enterprise desktops through cloud service providers.
In addition, the two companies are working together to bring Nvidia's virtual GPU technology (vGPU) to VMware's ESX-based systems – an offering they say will be available to select early customers by the end of this year, with general availability coming in 2015.
vGPU will extend the DaaS offering by supporting GPU sharing with VMware virtual machines, allowing up to eight users per GPU, with graphics commands going directly to the GPU, which will handle the appropriate memory allocations to ensure low-latency, high-quality 3D graphics to each cloudy user, the companies claim.
"This is a big deal," said Nvidia CEO and cofounder Jen-Hsun Huang during his keynote at the GPU Technology Conference (GTC) in San José, California, on Tuesday. "Partnering with VMware now makes it possible for us to finally virtualize the enterprise from end to end."
Nvidia's GRID technology is based on the company's Kepler GPU architecture, and was introduced in March 2013.
Huang said that "putting GPU in the cloud" was no easy feat. Latency, of course, was a primary challenge, with communications from the users' desktop, up to the data center, and back to the desktop needing to take no more that "100 to 200 milliseconds" according to Huang. "You're fighting all kinds of issues, including the speed of light," he said.
The GPUs' energy efficiency was also critical, he added, seeing as how the virtualization setups that Nvidia envisions would have thousands of GPUs sitting in the data center and sharing what is becoming an increasingly miserly power budget.
Finally, since the GPUs were in the cloud, they have to be concurrently shared by multiple users. "People call it 'multi-tenant'," Huang said. "In order to be multi-tenant, in order to support multiple applications at the same time, you have to be virtualized."
And if your GPU is virtualized, running multiple applications for multiple users, it of course needs to be compatible with all their different workloads. Huang expressed confidence that Nvidia's device drivers were up to the task.
"We are compatible with every application that runs on a PC that I know of," he claimed. "Everything from Catia to 3DS Max, all the way to Battlefield 4 and Call of Duty – and, of course, Internet Explorer and Flash and everything that runs, runs on our stack" – referring of course to multiple Nvidia GPU stacks: the GeForse stack, the Quadro stack, the Tesla stack, and whatever comes next.
The goal of this virtualization effort is to get high-quality Nvidia 3D graphics to desktops without those desktops having to be equipped with a high-end Nvidia card. And that's where the VMware partnership comes in, which will see VMware's ESX virtualization architecture, Horizon View virtual desktop infrastructure (VDI) management, and Horizon DaaS – VDI-in-the-cloud service – powered by GRID.
"I think this is huge for the enterprise," said VMware CTO Ben Fathi, who joined Huang on the keynote stage. As things stand now, he said, there are many applications that aren't amenable to virtualization due to their need for low-latency, high-quality graphics – such as the design apps Catia and 3DS Max that Huang had mentioned.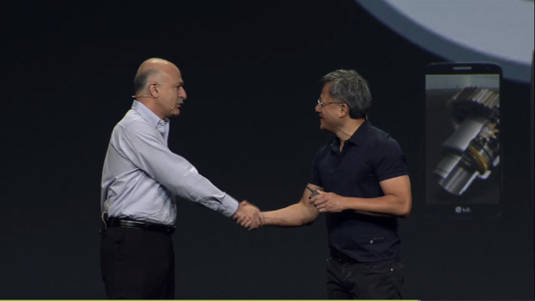 VMware CTO Fathi and Nvidia CEO Huang shake hands on their new partnership
Fathi may be right about the effect of GPU virtualization on enterprise being huge, if only for the reason that the market itself is huge. "There's literally over half a billion commercial desktops out there," he said, "and I think all of those will benefit from us working together to bring the capacity and capabilities of Nvidia GRID to the DaaS solutions that we provide."
Huang says his confidence in the VMware partnership comes in part from conversations he's had with customers. "The one consistent request," he said, "that everybody has is, 'Look, my data center is already virtualized and running VMware ESX. If you can figure out a way, if you and Ben can get your stuff integrated and working together seamlessly, it would just be the Holy Grail for us'."
The first part of that integration is available now, with the first service provider being NaviSite. Fathi said that prototypes of vGPU are now up and running in VMware's labs, and – as you might imagine he would say – "the software's looking great, the experience is great."
Providing workstation-class graphics to the desktop over the cloud is not unique, of course. For example as The Reg told you about earlier this month, Dell now has a workstation virtualization certification lab up and running in its Austin, Texas, facility.
But providing such virtualization through a DaaS provider running VMware on GRID, with the user only needing to worry about paying a monthly service fee, and not the administration and management of their own complex vGPU hardware and software, might be a convenience sufficient enough to bring Huang's vision of "end to end" enterprise virtualization to fruition. ®