This article is more than 1 year old
Ugh! This DUNKABLE wearable tech is REPELLENT
Something for a rainy day - like a waterproof Galaxy 5?
Pics Although last Week's Wearable Technology Show was dominated by gadget solutions looking for a problem, on a couple of stands were solutions to, er, the problem of solutions from P2i and HzO.
The two companies collaborate with manufacturers to ensure that your shiny new wearable tech toy doesn't turn into a damp squib when the thrills turn into spills.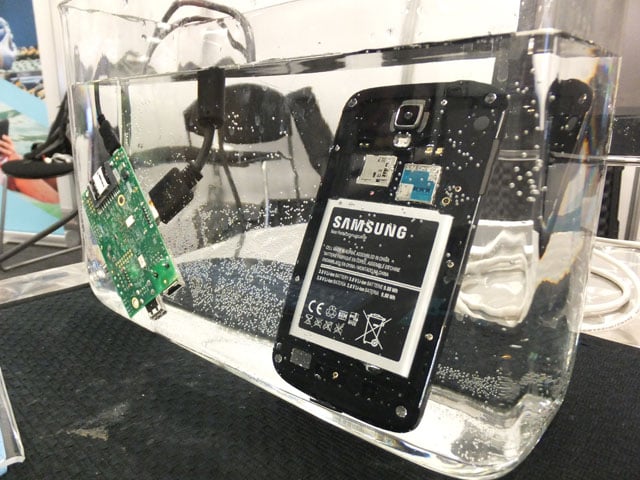 HzO barrier treatment on a Raspberry Pi and a Galaxy Note
The approach of the two companies to water repellent protection is quite different both in terms of process and the level of resilience they aim to offer electronics manufacturers.
US outfit HzO provides a more industrial strength polymer coating enabling devices to be used underwater for extended periods. To prove the point, on the stand was a Raspberry Pi immersed in a water tank running the company's video presentation on an adjacent monitor.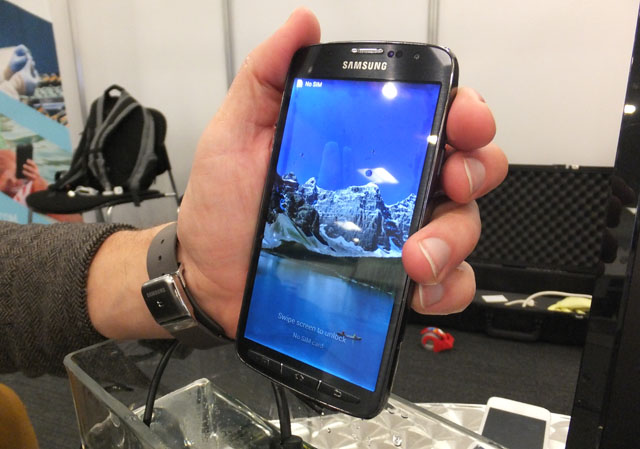 Galaxy Note still working after submersion – although the screen shows signs of liquid ingress, HzO only aims to protect circuitry
British company P2i has its roots in Porton Down, the MoD science facility known for its highly secretive defence research which includes CBRN threats. But before we get all Snowden on this, the initiative that led to P2i's formation was protecting military uniforms from chemical attack.
It's not such a radical shift to go from uniforms to mobiles, tablets and the inevitable strap-on tech. Whether you're wearing or carrying a device, exposure to the elements or just our own biological oozings can undermine electrical contacts or at worst, disable a device.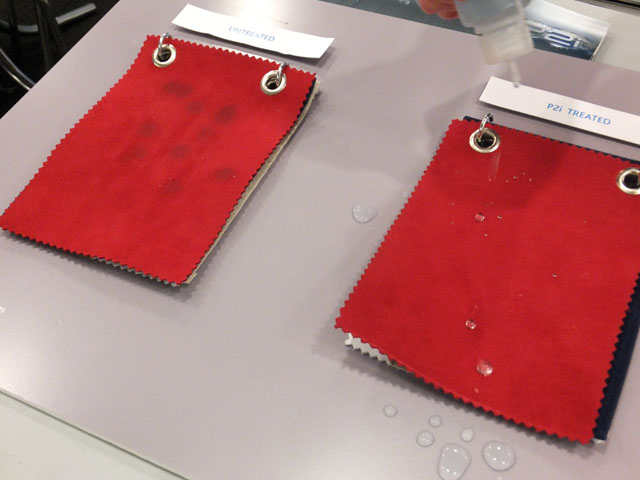 From chemical repellent uniforms to hydrophobic fabrics: note the damp untreated swatch on the left
Indeed, there's a noticeable trend to offer a level of protection from accidental immersion, but as P2i sees it, you don't have to engineer gaskets as Sony and others have done to seal a smartphone from a brief splash in the sink. The company has its own nano-coatings that takes care of protecting components, its latest barrier protection treatment is called Dunkable.
P2i doesn't presume we'll all be scuba-diving with our smartphones but Dunkable is IPx7 rated – enabling a phone survive for 30 minutes in a metre of water. Dunkable seems an apt name coming from a British company as any partaker in tea and biscuits will know: leave the biscuit in for too long and all is lost. The University of Bristol went to great pains to expound on dunking producing the paper, Physics Takes the Biscuit in 1999, but I digress.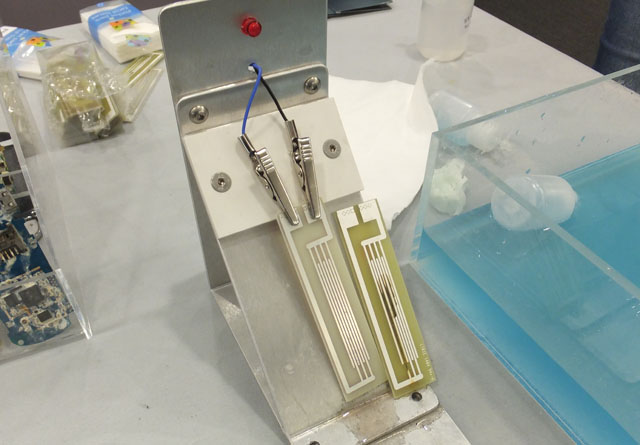 Looking a bit like a school physics experiment, this apparatus demonstrated how corrosive, conductive liquid would linger on the untreated circuit board (right) and make permanent connection. The treated board (left) dispersed the liquid and made only a momentary connection