AWS unleashes its DaaS 'Workspaces' plus share 'n' sync companion
US-only launch takes place on same day Citrix AWS-enables XenDesktop
---
FIRST LOOK Amazon Web Services (AWS) has announced that its desktop-as-a-service offering, "Workspaces" is now live and ready for general consumption.
AWS has operated Workspaces as a "Limited Preview" since revealing it in November 2013. Today it's thrown open the gates and also revealed four tiers of pricing. $US35 a month gets you a "standard" desktop with nothing other than browsers, 7-Zip and Acrobat reader, all humming along on 1 vCPU, 3.75 GB of RAM and 50 GB Storage. For $60 a month you can have the same software, a pair of vCPUs, 7.5 GB of RAM and 100 GB of storage in a "Performance" bundle.
If you want software with your desktop $50 a month buys you "Standard Plus" suite including the single-CPU virtual desktop, Microsoft Office and some Trend Micro security kit. The "Performance Plus" bundle offers the two-vCPU configuration and the extra software.
AWS has also shoved a new tool called "WorkSpaces Sync" out the door. The tool is a classic sync 'n' share concern and can be installed on Mac or PC. Any device running the software uploads the contents of the designated folder into a user's Workspace, a neat way to shuffle content into the cloudy desktop.
Workspaces is being served from two AWS regions: US East (Northern Virginia) and US West (Oregon). When the service was launched, AWS declined to offer Vulture South a review on the basis that trans-Pacific latency made it inadvisable to properly assess the service from Australia. Your correspondent duly ignored that advice today and whipped up a "Standard" Workspace.
The AWS console advises it can take up to 20 minutes to provision a desktop. Ours was available after 17. Setup is easy: one need only click a link in an email, set a password, download a client and enter the password to get up and running.
But AWS Australia was right about the latency: the desktop was so laggy that it was barely usable. Workspaces are also a bit screwy on the geolocation front: we visited Chrome.google.com and were greeted by the following view.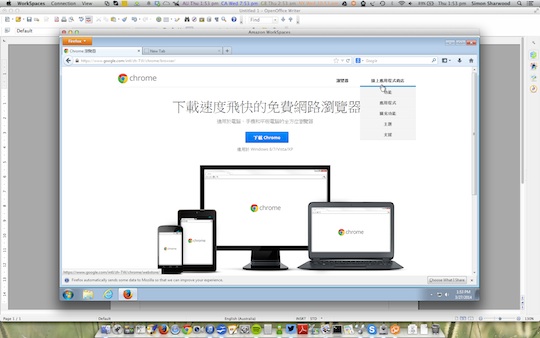 Google thinks this AWS Workspace is in Taiwan
We also downloaded OpenOffice and were a little surprised to find that during the suite's installation process its "User Name" and "Organization" fields were populated with "Amazon" and "Amazon.com". Once we got Writer up and writing it could not keep up with your correspondent's typing. The Workspace also converted Macintosh key-presses into Windows key-presses. That's unsettling because "Option-Arrow" moves a cursor to the start or end of a word in MacOS. In Windows it moves it a single character.
Those quibble aside, the service certainly provides an entirely recognisable and functional Windows 7 desktop, just a little too slowly to be usable beyond the USA.
If you live beyond North American and really want Amazon powered DaaS, a happy coincidence (?) means today is also the day on which Citrix released version 7.5 of XenApp and XenDesktop. The feature Citrix is putting at the top of its lists for the new releases is the ability to provision virtualised apps or desktops in Amazon Web Services.
Advantage Citrix, therefore, at least until AWS flicks the switch for Workspaces in its other bit barns around the world. ®