This article is more than 1 year old
Facebook taps up NASA boffins to launch drone fleet, laser comms lab
Brit experts also tapped up to connect 5 billion more people to Zuck's ad network
Facebook has assembled a team of experts in the US and UK tasked with connecting the social network's next five billion users to the website (and the rest of the internet).
The Connectivity Lab was revealed on Thursday: it employs "the same engineering talent behind Facebook's infrastructure team and the Open Compute Project," the company said, and also has new hires from UK high-altitude long-endurance (HALE) aircraft company Ascenta.
"Connecting the whole world will require inventing new technology," explained the social network's chief Mark Zuckerberg in a post. "That's what our Connectivity Lab focuses on, and there's a lot more exciting work to do here."
The Connectivity Lab plans to use solar-powered drones and satellites fitted with communications gear to relay internet access to areas of medium and low population density, along with new laser-based technologies to create a high-bandwidth transmission network.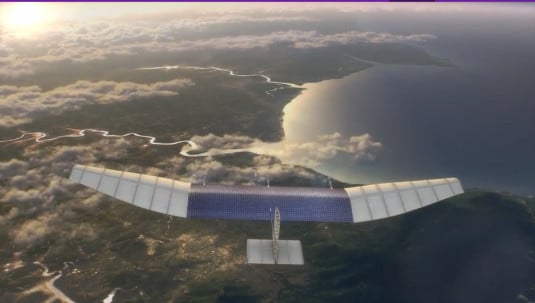 Coming soon ... Facebook internet-bearing drones
To achieve this, Facebook has also hired an undisclosed number of people from NASA's Jet Propulsion Laboratory, NASA's Ames Research Center, and the National Optical Astronomy Observatory.
One of the main areas of development for the technology is laser-based transmission technologies to help form connectivity links between Facebook's planned fleet of solar-powered drones flying at 20km above sea level.
"We're looking for some fantastic people in aerodynamics, physics, communications systems, to really help us solve this problem together," Yael Maguire, a member of the Connectivity Lab, explained in a video giving more info on the scheme.
Although Facebook pretty much makes all of its money from advertising and has a direct business incentive to bring more people online and into its billion-strong social network, Zuckerberg has repeatedly demonstrated an idealistic streak borne out of a conviction that the more connected people are with one another, the better life can be.
Facebook's older internet sibling, Google, has a similar view (and similar scheme via its Loon broadband balloons), and both companies have had to walk a tightrope between their left-leaning connect everyone! idealism on one side and the demands of the commercial market on the other.
Given the ambitious goals of Zuckerberg and his connectivity-boosting Internet.org charity and the far-reaching effects of a global connectivity system controlled by a private company, we can only hope he doesn't lose his balance. ®