This article is more than 1 year old
GNOME 3.12: Pixel perfect ... but homeless
Best thing out of GNOME camp for YEARS, but who'll take it in?
Review When the GNOME 3.x desktop arrived it was, frankly, unusable. It wasn't so much the radical departure from past desktop environments, as the fact that essential things did not work properly or, more frustratingly, had been deemed unnecessary.
Fast-forward three years and while GNOME 3.12 – released Wednesday – still isn't the infinitely customisable experience of GNOME 2.x, not only has the GNOME Shell progressed by leaps and bounds but it now makes for a stable, productive desktop environment.
One of the great things about releasing early and often is that eventually things improve; sometimes things improve so slowly you hardly notice it until a release like GNOME 3.12 rolls around, but they improve nonetheless.
If you dismissed GNOME 3 when it arrived, I can't blame you, but I suggest taking another look. GNOME 3 has finally arrived, with the newly released 3.12. The only problem with GNOME 3.12? It's a desktop in search of a Linux distro.
Ubuntu has Unity. Even Ubuntu GNOME 14.04 will most likely not be using GNOME 3.12. The future of Debian looks to be with Xfce. GNOME 3.12 will likely be part of Fedora 21, but that's still months from being released.
At the moment, if you want to try GNOME 3.12, your best bet is probably a rolling release distro like Arch, or – for the less experienced – an Arch derivative like Manjaro.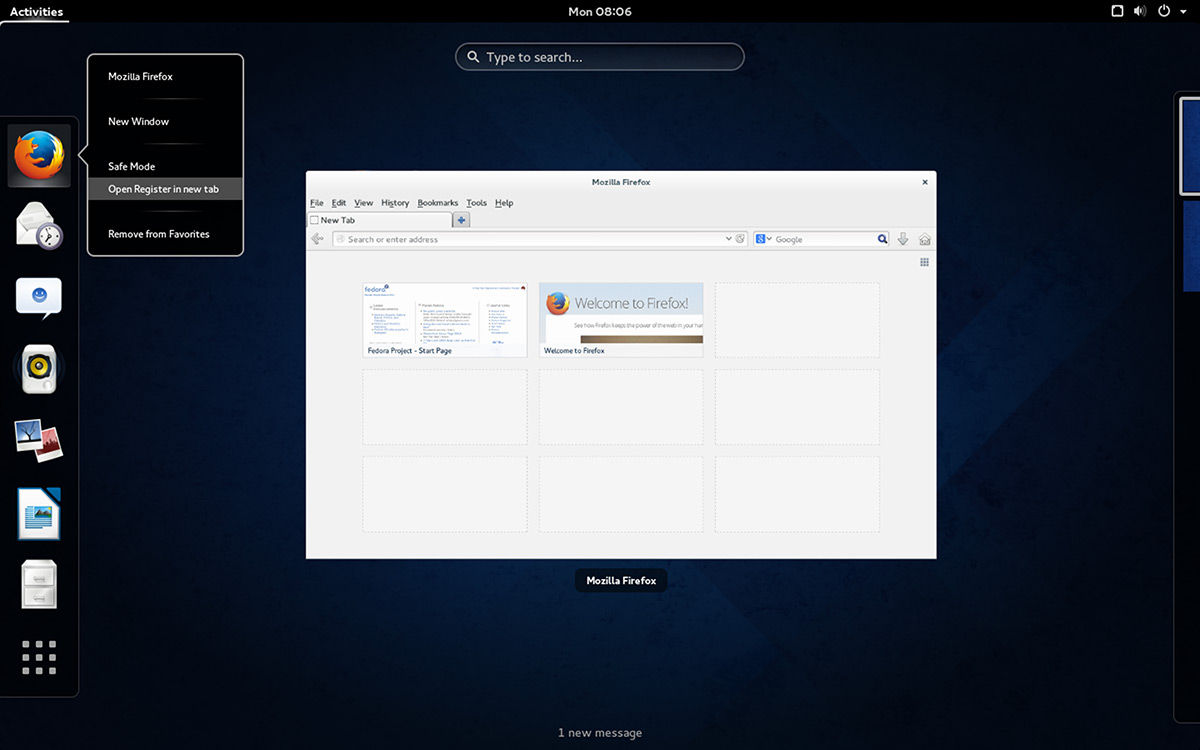 GNOME 3.12's customisable right-click menu gives you jump lists (click to enlarge)
It's a shame no major distro has a release to showcase GNOME 3.12 because it may well be the best thing to come out of the GNOME camp in years.
One place that GNOME 3.12 hands down beats every other desktop I've tried is support for high-resolution screens. This isn't entirely new. GNOME 3.10 has some of the better high-dpi screen support you'll find in a Linux desktop, but there were still a few glitches. GNOME 3.12 picks up where 3.10 left off and polishes things up a bit. Problems like poorly sized icons and thumbnail images in the Alt+Tab switcher are thing of the past. There's still work to be done in this area, but GNOME 3.12 will likely be one of the best Linux desktops for those with a high-res screen.
The GNOME developers have also been busy improving what might be thought of as power-user tools. Perhaps one of the most immediately useful of these new tools are the "quick lists" or "jump lists" for the launch bar. Right click on the launch bar in GNOME 3.10 and earlier and the only menu items you'll see are "new window" and "close".
GNOME 3.12 expands that to add support for customisable right-click menus in the Activities view and in any running apps listed in the Favorites bar. All you need to do is create a simple text file with a few lines of code and your custom tools will show up in the right-click menu for the app you specify.
For example, imagine you want a shortcut to quickly launch theregister.com in Firefox. All you need to do is edit the application's desktop file (in this case that's firefox.desktop). Then you define a "Desktop Action", which consists of a name and action. Save your file in ~/.local/share/applications and you're done.
Now whenever you right-click on the Firefox icon in the Favorites bar, you'll see an option to open theregister.com directly. Other possible uses include opening an app with a blank document ready to go or opening an app with a new document based on a template of your choosing.
While it's nice to have customisation options for power users, this also makes it much easier for GNOME apps to customise their options, which in turn will make the Activities view and Favorites bar more useful.
Much of what's noticeably different in GNOME 3.12 are the various new and revamped applications.