FINALLY Microsoft releases Office for iPad – but wait there's a CATCH
Now Ballmer's gone, it's time for big biz to properly fondle some spreadsheets
Microsoft has, after years of speculation, released some of its Office applications for Apple iPad owners – but you'll need an Office 365 subscription to use them in anything other than a lobotomized form.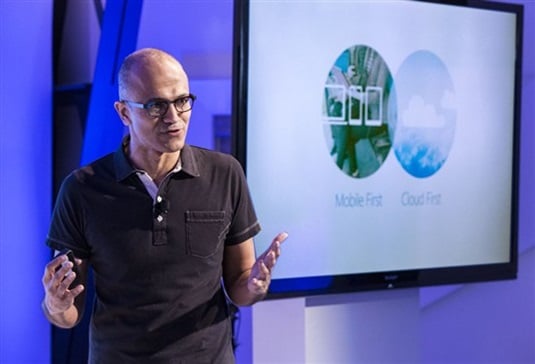 Nadella holds his first press conference since taking former CEO Steve Ballmer's crown
The Apple App Store now has Microsoft Word, Excel and PowerPoint available for download for iOS 7, and the apps have been reworked to fit in with the iPad's layout and form factor. The apps will allow people to view Office files on their Cupertino fondleslab, but not create new documents or edit existing ones – for that you'll need an Office 365 cloud subscription, starting at $70 a year.
"When it comes to Office 365, the vision is fairly straightforward," said Microsoft CEO Satya Nadella at a press conference in San Francisco today. "It is to make sure that the one billion Office users have access to the high fidelity Office experience on every device they love to use. Today's announcement marks one more step in that direction."
It's easy to see why Microsoft is so keen to tie Office 365 into the new apps – Office is Microsoft's cash cow and generates more than half its profits, so Redmond won't be willing to give all that up any time soon.
The apps themselves look very polished for a version one product, adding credence to the rumors that this has been developed and then held over for some time. There are also iPad-specific features, such as the ability to simulate a laser pointer on a PowerPoint demonstration using your finger.
It's worth noting that this new touchscreen-optimized version is available right now for the Apple iPad, whereas Microsoft's own Windows 8-powered Surface slabs are still using traditional mouse-and-keyboard-centric desktop Office software. You'd be forgiven for thinking the Surface would come first.
Collaborative working is possible on the paid-for apps and the Microsoft demo team showed five people working on a document concurrently, with change tracking enabled to see who has been editing what and when.
Nadella said the goal was to make Office available on any device at any time – well, almost. There are now tools to access Office documents on iPhones and iPads, Android gadgets and Windows 8 kit, but when El Reg asked if Redmond will bother developing for BlackBerry, the answer was a very firm "no," from one of the Office team.
While there are bound to be plenty of individuals who want the ability to handle Office files on their iPad, the main thrust of Nadella's announcement was aimed at attracting enterprises. Microsoft also showed off new tools, dubbed the Enterprise Mobility Suite (EMS), for IT managers managing the new software; the EMS will be out in May.
EMS uses Azure Active Directory Premium, Windows Intune, and Azure Rights Management Services to control devices and the applications that come on them. Active Directory give IT managers a pool of over 1,000 applications that can be cleared for use by staff with a single sign-on, or two-factor if preferred.
InTune will give IT managers better control over mobiles and PCs, including remote wipe and, on the mobile side, better support for Android devices and Samsung's KNOX platform. Azure Rights Management is integrated to lock down data as needed.
Nadella said that over the next four weeks Microsoft will be fleshing out its "Mobile First – Cloud First" strategy, first at the Build developers conference next week and at subsequent events covering data management. Presumably the company's Surface RT slab, the ARM-powered rival to the iPad, will feature in there somewhere. Right? ®