ECCENTRIC, PINK DWARF dubbed 'Biden' by saucy astronomers
Sedna has more cousins in the Oort, astroboffins believe
---
A new dwarf planet has been discovered in the Inner Oort cloud that encircles our Solar System some 12 billion miles from Sol.
The planet is a frozen shrimp of a thing – an estimated 450 kilometres across with a surface temperature of -432 degrees Fahrenheit and is presumed to be largely made up of ice that gives it a reddish hue. It's officially called 2012 VP113, which the discovering team shortened to VP, and then eventually Biden to honour the current US vice president.
Biden was spotted by Scott Sheppard of the Carnegie Institution for Science in Washington, D.C., and Chad Trujillo of the Gemini Observatory in Hawaii, and is only the second such body discovered in the Oort Cloud. Ten years ago a body called Sedna was spotted way out there, but astronomers thought it could have been a one-off
When measuring distances in space scientists use astronomical units, with one AU being exactly 149,597,870,700 meters – or the distance from the Sun to the Earth. The Solar System's furthest planet, Neptune, is about 30AU out, but Biden's orbit takes it between 80 and 453AU away from the system's center and Sedna goes out almost 1,000AU at its most distant.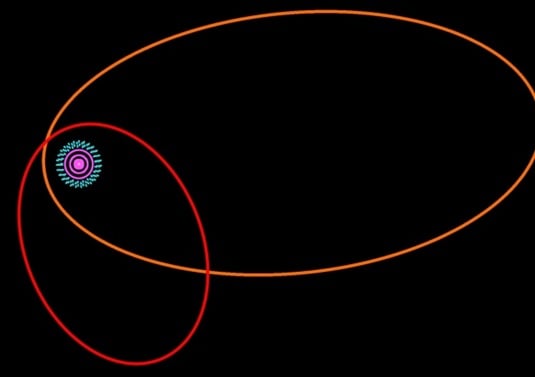 Sedna's orbit (in orange) is rather larger than Biden's (in red)
"This is a great discovery," says Michael Brown, a planetary astronomer at the California Institute of Technology in Pasadena, told Nature. "We've been searching for more objects like Sedna for more than 10 years now."
Sedna follows a much larger orbit than Biden, according to the Nature paper, but the two found so far show that there could be thousands of such wanderers out there. They're difficult to spot because of the distances involved and follow highly elliptical orbits that mean they only occasionally swing into view, but Sheppard and Trujillo have six more possible candidates identified already.
The dwarf was spotted in 2012 Dark Energy Camera, a 520-megapixel camera on the four-metre Blanco telescope at the Cerro Tololo Inter-American Observatory in Chile. The team there struck it lucky: Biden popped up in the fifth frame of the hundreds captured.
It's not known how icy bodies like Biden and Sadna form. One theory is that they are relics from the very earliest days of the Solar System and are made up of the material that was whipped away from the material that was going to form the Sun by the passage of a large planetary body.
Another popular theory is that there is a huge planet orbiting far out beyond the reach of human telescopes which is kicking material into the Oort Cloud to form into small dwarf planets, or that the material in the cloud could have formed in the inner Solar System and been flung out by close encounters with larger bodies.
"The really interesting thing about Sedna and VP133 is that it shows how little we know about our own Solar System: the fact that there's a whole population of objects out there, the fact that we don't even know how they are formed, and the possibility that there could be large planets out in that area that we don't even know about yet," Trujillo explained. ®