This article is more than 1 year old
Twitter sneaks in Facebook-ish photo-tagging – how to switch it off
Privacy? Hashtag YOLO!
Without much fuss, Twitter has taken another step to be more like Facebook – and added a photo-tagging feature. And in the best traditions of social networks, the privacy-diminisher is switched on by default.
The tagging feature means anyone can identify someone in a photograph they post, unless you realise it's happening, log into your security settings, and turn tagging off:
Pitching the feature with the line that "photos just got more social", Twitter notes that tagging won't be counted in the 140 characters of a Tweet: "tagging doesn't affect character count in the Tweet — you can tag up to 10 people in a photo and still have all 140 characters at your disposal, making it easier to connect with your friends."
The reader of a Tweet – purely hypothetically, an ex with a little bit of creepy-stalker in their psych makeup – can ask Twitter "who's in this photo?" to retrieve the tag-list before (again, hypothetically) bombarding you with demands to know why you're with the people you're with.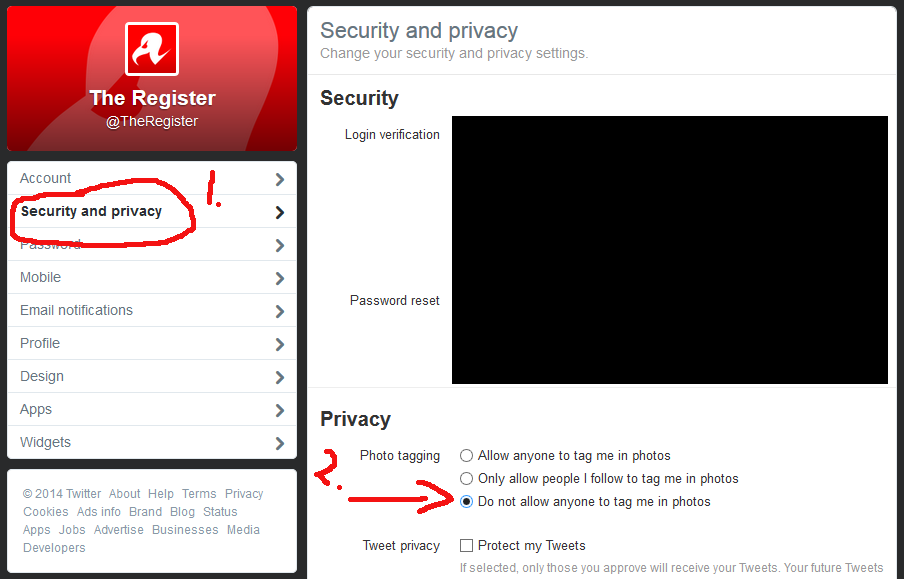 How to stop world+dog tagging you in Twitter pics
Photo-tagging is live now on Android and iPhone.
Perhaps more usefully, Twitter is also letting users run up to four photos in a single Tweet, starting with iPhone but promising to add the feature on Android and Twitter.com in the future. ®