Samsung Galaxy S5 in El Reg's claws: This time the 'S' is for 'sensible'
'I grasped its dimpled rear and shook it hard'
---
First fondle When Samsung launched the Galaxy S4, its features made little sense.
That the handset could respond to your fingertips gesturing a mere millimetre or two above its screen surface was cute, but hardly a game-changer. Ditto the phone's ability to track your eyeballs in order to scroll pages. All that fuss about fitness was also fishy: low-power GPS chips meant regular runners and cyclists could use apps like Strava and MapMyRun for more than an hour at a time. Samsung offering a subset of such apps didn't seem like a game-changer.
The S4 sold predictably well, and I'm betting not because of the new headline features. Have you ever seen someone say they're desperate for a phone they can swipe less heavily?
Which brings us to the headline features of the new Galaxy S5, which I was able to use for about half an hour at its Australian launch this week.
This time around Samsung is keen on its battery-saving mode, IP67 rating and, once again, fitness features. Samsung Australia personnel swore blind all of those features were designed for an "Aussie lifestyle". Because down here we all go to the beach every day, a supposition only slightly less believable than the notion that an S5 design meeting considered how to optimise sales in a nation of 23 million.
But I digress, because this year's features make a fair bit of sense. Cups of tea still pose an unreasonable threat to most mobile phones so adding IP67 is welcome in everyday life. Samsung's implementation of IP67 is impressive: prise open the cover that now conceals the handset's USB port and the S5 tells you what you've done with a dialog reminding you it is now vulnerable to liquids and passing sand storms. At the launch I was also able to dunk an S5 in water and bury it in sand. It survived both ordeals unscathed and unscratched.
A small quibble: my neatly-trimmed fingernails struggled to open the protective cover, especially after the sandy sojourn when some grains occupied the prising-open niche.
Another feature Samsung is keen on this time around is the "dimpled" rear skin. I dunked an S5, grasped its dimpled rear and shook it hard. The phone would not leave my less-than-tender embrace, a good result that shows the dimpling is more than cosmetic. Which is not to say its utilitarian: the S5 looks a bit like posh leather goods you'd see in a duty free store, peer at briefly and then recoil from in horror at the price.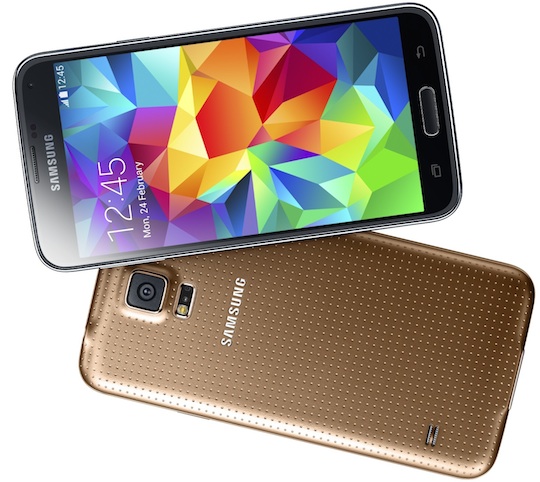 The Galaxy S5 in 'copper', complete with dimpled rear
Battery-saving mode is also welcome. I wasn't able to test it, but Samsung has to do some infill here because of mistakes Google's making: that Angry Birds Go made it into the Play store with features that see it consume 20 per cent of battery when it's not running on my S4 reflects very poorly on the Chocolate Factory. I wasn't able to test this feature as all of the phones on offer were plugged in to chargers, but it's a far more useful innovation than eyeball-tracking.
Nor was I able to test the fingerprint scanner, a new inclusion that uses the phone's screen rather than a dedicated sensor. Samsung demonstrated it as a way to activate the phone's pay-by-bonk facilities, which worked as advertised. Samsung Australia promised the S5 will integrate/replicate my existing credit card, an improvement on the S4's requirement to open a fresh account with my bank and one that shows Samsung looks to be building a more impressive ecosystem.
The camera now includes a "virtual tour" mode that supposedly lets one walk through a building to show it off, but it didn't impress because it wasn't intuitive. But the camera does focus with impressive speed, as promised, and coped with dim light and colour gradation handily … we think. The machines on offer at the launch weren't on a network so we're going on impressions from shots we took, rather than evidence we can share.
The phone's slightly increased size isn't an issue: it still handled easily. I've found my S4 a more-than-capable replacement for most of what I used to do with my first-generation iPad, which is now rather sad and slow. The extra fraction of an inch on the S5's screen will, I suspect, make it a candidate for a few more chores.
I was also able to try on the Galaxy Gear and Gear Neo. Both are nicely built and boast impressively bright screens. Whatever plastic Samsung has used didn't feel greasy and didn't make my wrist feel icky. Importantly, the watches are also nicely light. Weight is important because they're being touted as exercise accessories, complete with heart-rate monitors. Samsung mentioned this feature constantly and it seems like an oddity: among my 500-strong cycling club perhaps 25 per cent of members care about heart rates. The rest of us care more about getting home safely and the end-of-ride coffee.
If Samsung can integrate the exercise features of the S5 and its smartwatches into a social app and social networks, it may yet make the fitness features a big selling point.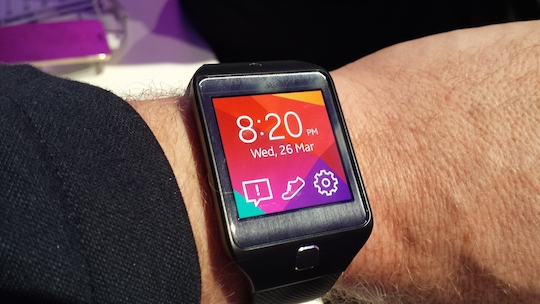 The Galaxy Gear Neo smartwatch comfortably fitted on your heavy-set,
189cm correspondent's wrist, but you probably don't want a watch much bigger than this
The S5 is, as was the case for its predecessor and its rivals at the top end of the smartphone market, a marvel. It's not a cheap marvel: the Australian price of $AUD929 translates to $US829 or £517.
But this time the premium price buys a phone that feels like it's improved by adding sensible features that enhance users' everyday experiences, instead of the gimmicks found in the S4. On the basis of this first fondle, it'll be hard to resist. ®
Similar topics
Narrower topics