The power of small change
With 14.04, it will be possible to modify the default behavior of the Launcher. That may not sound all that exciting, but this feature request is three years old and, for a very long time, was simply marked "won't fix".
That after three years, Canonical should suddenly change its mind on two much-requested features means - hopefully - it is starting to listen to its users more.
As with the new menus-in-the-window option, the default behavior of the Unity Launcher will remain the same. There will, however, be an option to change the behavior to minimize windows on click.
In another welcome change from past releases, you can now make the Unity Launcher icons much smaller, all the way down to 16px. That's good news of you're running Ubuntu 14.04 on a smaller screen and you want to avoid that bunched up cluster of unrecognizable icons at the bottom of the Launcher.
There are other small - tiny even - touches that see Canonical paying quite a bit of attention to details in this release. For example application windows are now borderless. The one pixel, nearly black border element has been removed. An equally small, but nice touch are the new GTK3 window decorations, which mean much smoother anti-aliased corners - something that might not be noticeable without a high-resolution screen, but will be much appreciated if you have one.
A more noticeable design change is the new, live window resizing. When you grab a window edge and resize it, the windows just resizes. Previously the windows would show a yellow box indicating its size as you dragged, but it didn't re-draw itself in real time. The live preview feature has been an option for a while, but it was tucked away in the Settings panel. Now it's on by default.
Such tiny UI refinements might be dismissed by many, or indeed missed altogether, but those of us who have for years been wishing someone would pay attention to design details in the Linux desktop world, well, this is what that looks like. Ubuntu has always been a distro that sweats the details so it's not surprising to see these changes here rather than say the Debian main line, but it's welcome nonetheless - especially in an LTS release.
Tiny improvements aren't just part of this release, they are in fact the core of Ubuntu 14.04 - fixing the tiny cuts and annoyances has long been the signature of LTS releases. Those of you anxious to see Mir on the desktop or Unity 8 are going to have to wait for 14.10 at least, due in October this year. You may have to wait even longer in the case of Mir, which may not make it to the desktop for at least another year.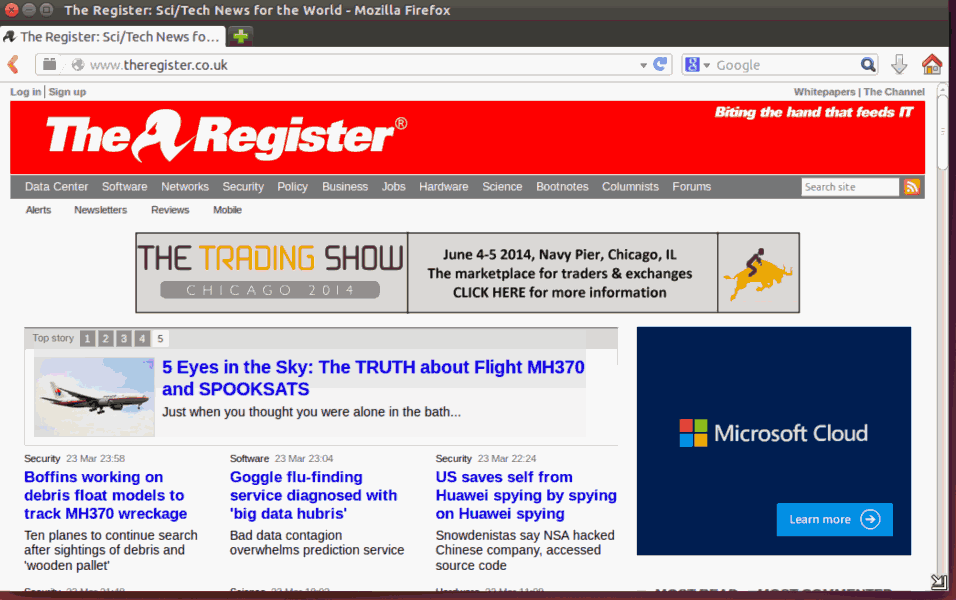 Windows re-size in realtime
Still, while there may not be much in the way of groundbreaking new features or anything else too flashy, judging by this beta, Ubuntu 14.04 is shaping up to be Ubuntu's best release in a long time, possibly ever.
The taint of Ubuntu's privacy blunders with the last few releases do still cast something of a shadow over the distro that used to be a favorite of Linux newcomers and old hands alike. But if such things don't bother you, and you have the hardware to support the Unity interface, Ubuntu 14.04 is likely to be one of the slickest, most polished Linux desktops you've ever tried. That's great news for anyone sticking to the more stable, LTS-updates-only path, since this will be the first time such users move beyond 12.04, which frankly, feels like it was released far longer than just two years ago.
This will also likely be the last time Ubuntu is released solely for the desktop since Ubuntu founder Mark Shuttleworth has promised mobile devices in the third quarter of this year, which means Ubuntu Mobile will soon be on the shelf as well.
If Ubuntu Mobile is able to do what iOS did for Apple - that is, sell not just phones and also tablets beyond the company's corresponding desktop - Canonical needs to have a great desktop ready to go. As of this beta at least, Ubuntu 14.04 is well on its way to being just that - a great desktop on which to stake Ubuntu's future. ®
Similar topics