This article is more than 1 year old
Amazon Workspaces: A dish best served later
Ctrl-Alt-Del across the miles
Review Amazon Workspaces, the etailer-cloud-service-provider's Virtual Desktop Infrastructure service based on a "Windows 7 desktop experience", has been uncorked.
Actually, it's Windows Server 2008 R2 with the desktop experience enabled – possibly for licensing as much as for technical reasons. Microsoft is awkward about licensing Windows 7 itself in this scenario; it is not even available on Azure.
I am happy to say that I am typing this piece on an Amazon Workspace (accessed from a Google Nexus 7), but less happy to report that it is laggy as hell and that I have already lost one chunk of work. Still, it is early days for both service and user.
The service offers a choice of four workspace "bundles" which you can mix and match. The base offering costs $35.00 per month and has 50GB storage, 3.75 GB RAM and no additional software other than a few freebies like Adobe Reader and Mozilla Firefox.
Next up is the same specification but with Microsoft Office Professional 2010 and Trend antivirus installed and licensed, at $50.00 per month. The "Performance" versions at $60.00 and $75.00 follow the same pattern, but with two virtual CPUs, 7.5GB RAM and 100GB storage.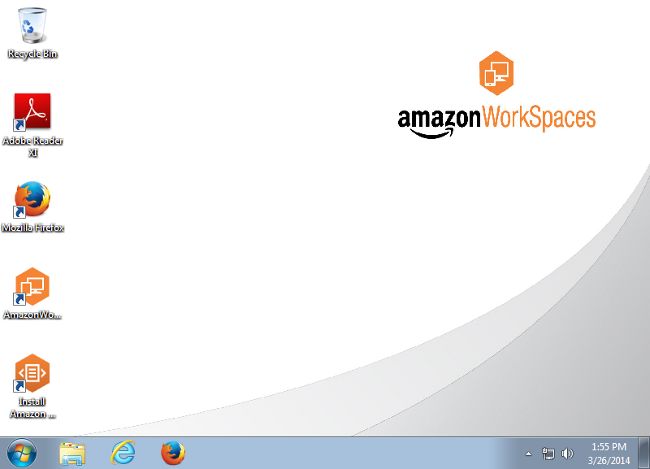 Welcome to the Amazon: A fresh WorkSpace, ready for use
Setup is easy or complex depending on whether you need to integrate with an on-premise Active Directory (AD). If you can live with an Amazon directory, as I did for a quick look, you can set up in a few minutes. As administrator, you sign into the service, add users to the directory (note that you do not specify a password), select a bundle, and that is about it. Oh yes, and open port 4172 for UDP and TCP.
The user then receives an email with a registration code and a link to client downloads; PC, Mac, iOS and Android (including Kindle Fire) are supported. Install the client, enter the code, create a password, and you are done. All going well, the WorkSpace then opens.
If you want AD integration, you need to set up an Amazon Virtual Private Cloud with an internet gateway, two subnets and either VPN or Amazon's Direct Connect enabled. Then you have a series of steps to get WorkSpaces talking to your on-premise AD.
Amazon calls this a fully managed service, but that does not include patch management. "By default, Windows Update is turned on, but you have the ability to customize these settings, or use an alternative patch management approach if you desire," says the FAQ, lamely.
I want to like WorkSpaces, because cloud-hosted desktops make a lot of sense, particularly if you are using cloud services hosted by the same provider so that you get fast connections between virtual desktops and those services.
On the plus side, even the basic bundle is well specified for day-to-day work, and whatever magic Amazon has done to Server 2008 R2 is seamless enough that it looks and feels like a standard Windows 7 desktop. Browsing the web is responsive and YouTube is more or less watchable, though for some reason Google thinks you are in Taiwan, and the quality is limited by your connection to the WorkSpace so slightly jerky.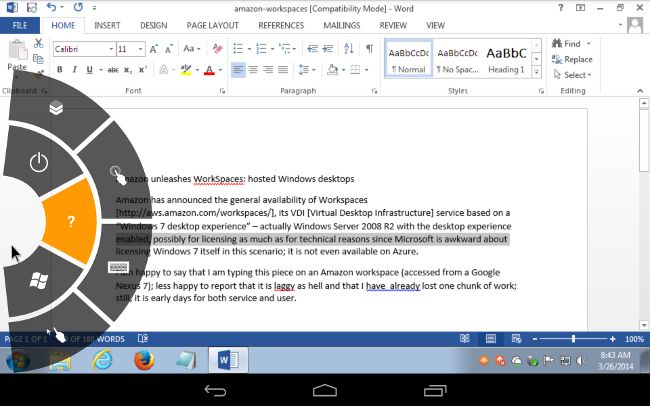 WorkSpaces on a Nexus 7, showing the flyout radial menu.E
My initial experience was not so good though, using the Windows client, because the keyboard hardly worked. It has improved a little since, but is still hardly usable. One factor is that I am in the UK, and the only supported regions for hosting a WorkSpace currently are East or West coast USA. That said, I regularly use VMs across an Atlantic connection and I can type fine, so I suspect shortcomings in Amazon's client.
An annoyance is that you cannot use Microsoft's standard remote desktop client, but only Amazon's apps.
I tried a different PC, which mysteriously works a little better. I installed Office 2013 using an Office 365 account, and was typing away when the keyboard went into some kind of loop and sent repeated characters. That killed Word; and I had to use the handy Ctrl-Alt-Del feature on the client to end task, losing what I had written.
Next up was iPad and Android. On tablets, WorkSpaces supports numerous gestures for right and left clicks, raising and dismissing the virtual keyboard, and so on. There is also a curious radial control which you summon by swiping in from the left, Windows 8 style.
Despite these features, Windows 7 is not easy to operate on a tablet unless you have a keyboard. Fortunately I do have a Bluetooth keyboard, which works, but with oddities. On the iPad I had to enable the virtual keyboard in order to use the Bluetooth keyboard, though the virtual keyboard in this scenario displays only its function keys. I am not sure if this is a bug, but it is sub-optimal since the top of the desktop screen disappears.
Android has what seems to be the most reliable client, with the same range of gestures as those for iOS.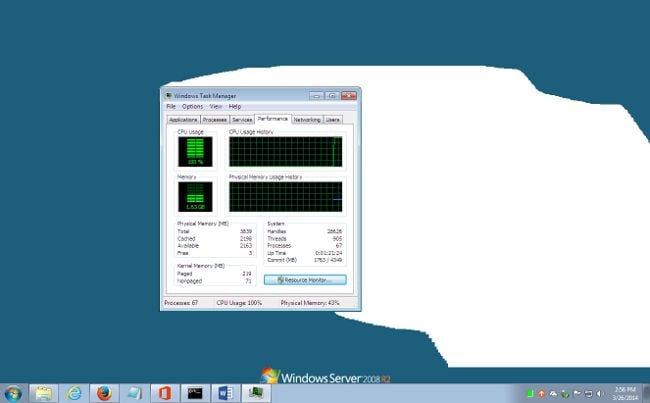 Keyboard problems crashed Word with unfortunate results
An additional feature called WorkSpace Sync copies documents from your WorkSpace to an otherwise inaccessible location in Amazon S3 (Simple Storage Service). You can then synchronize documents between your WorkSpace and your standard desktop, presuming you have both. Synchronization is hard though. I created a new text document on the PC, then renamed it, but ended up with two documents, one with the old name and one with the new. That does not inspire confidence.
Printing is difficult unless you have local network integration. Unlike Microsoft's remote desktop client, it does not redirect to a local printer. Nor can you use a local USB device.
WorkSpaces is a promising service but I encountered enough niggling problems in a first look to suggest that the clients, in particular, could do with some refinement. Keyboard issues and printing are significant limitations. If you are outside the USA, you should also wait for other regions to become available.
Even in its current state, this could be a useful service in some scenarios, but don't dive in: it will get better. ®