Don't tase me Pro: WD brings out Thunderbolt external drive
Twice as fast as USB 3.0
---
WD has bought out a Thunderbolted My Passport Pro external drive with power delivered over the speedy data cable.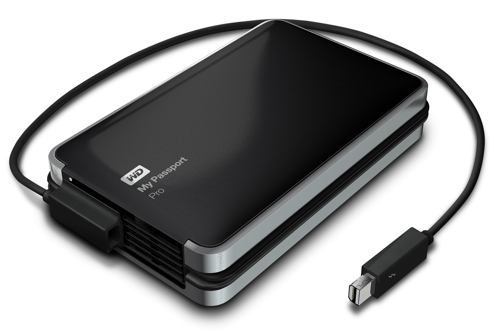 Wd Thunderbolt My Passport Pro
It comes in 2TB and 4TB capacities using two 2.5-inch drives, with either RAID 0 (striping) or RAID 1 (mirroring) for MAC users.
RAID 0 delivers up to 233MB/sec bandwidth with the 2TB unit but 230MB/sec with the 4TB unit, using the integrated Thunderbolt cable. WD says that's roughly twice as fast as USB 3.0 with RAID 0 set, when transferring a 22GB high-definition video file.
The enclosure looks roughly like a thicker My Passport Ultra, which runs up to a 2TB capacity, and the drives could be 2TB WD Greens.
WD says the Pro My Passport, which it claims is the first Thunderbolt-powered dual-drive portable, is for creative professionals and "enthusiasts".
WD EVP for branded products and worldwide sales, Jim Welsh, talked of "photographers, videographers and musicians to graphic designers and architects, people who depend on portable storage for their livelihood." They can generate and process large files of digital outside the studio faster than before.
This My Passport Pro is available now at Apple and major consumer electronics retailers and e-tailers as well as online at www.wdstore.co.uk . The MSRP for the 2TB My Passport Pro is £239.00 and £349.00 for the 4TB model. ®