This article is more than 1 year old
BT Tower to be replaced by 3D printed BT Tower
Britain leads the world as safe lightweight landmark replaces telecoms colossus
April Fool Prime Minister David Cameron will announce a futuristic addition to London's skyline today. The familiar shape of BT Tower, opened in 1965 by Harold Wilson, will give way to a 3D printed tower – believed to be the largest additive polymer construction in the world.
The 21st century version is designed to be a replica of the original, and the same height at 581ft (171m). However due to its lightweight plastic construction, it will be unable to carry today's payload of telecommunications equipment and hospitality suites at the top. Demolition of the old tower and its replacement is expected to take around a decade.
Nevertheless, Prime Minister Cameron hailed the 3D printed BT Tower as a symbol of "the second industrial revolution, in which the UK is proudly leading the way".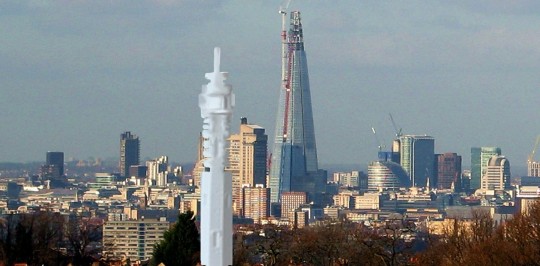 Futuristic: How London's skyline will look
The new BT Tower brings several safety advantages. Nobody can fall off the top. And the architects, Magic D3signs of Shoreditch, anticipated 21st century threats, incorporating the latest thinking in sustainable urban design.
In the event of a terrorist bomb attack, the lightweight 3D printed BT Tower will fall harmlessly onto the 3D printed version of Euston Station below. ®