Can you tell a man's intelligence simply by looking at him? Yes
So says a Czech study – but the same doesn't hold true for women
---
A group of Czech researchers has conducted a study in which they determined that the perceived intelligence of men correlates strongly with their actual intelligence – but the same doesn't hold true for women.
"Both men and women were able to accurately evaluate the intelligence of men by viewing facial photographs," the researchers write in a paper published in the online, peer-reviewed journal, PLOS ONE. However, "No relationship between perceived intelligence and IQ was found for women."
The study was based on still photos of 40 male and 40 female biology students at Charles University in Prague. "The subjects were instructed to adopt a neutral, non-smiling expression," the paper details, "and avoid facial cosmetics, jewellery, and other decorations. The photos were cropped to place the eyes horizontally at the same height and leave a standard length of neck visible."
Each of the subjects – males, 19-to-34 years of age; females, 19-to-24 – were also tested for their IQ by Czech version of the Intelligence Structure Test 2000 R (IST-R).
The photos were then rated for perceived intelligence by 43 women and 42 men who had no connection with the University's Faculty of Science, from which the photographed and IQ–tested subjects were recruited. A different 42 women and 33 men rated the same photos for attractiveness. Each of the men and women rating the photos did so for all 80 of the subjects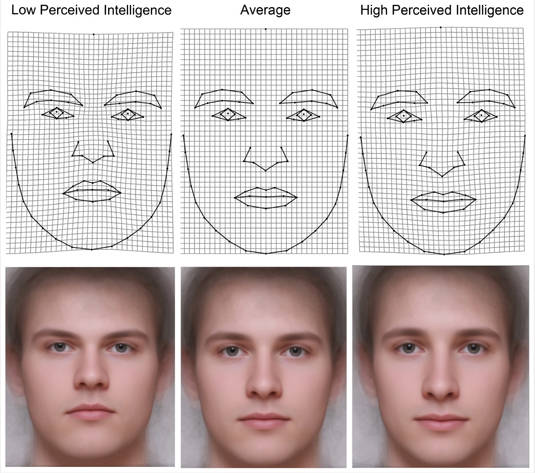 Narrow face and big nose? You're perceived to be intelligent (click to enlarge)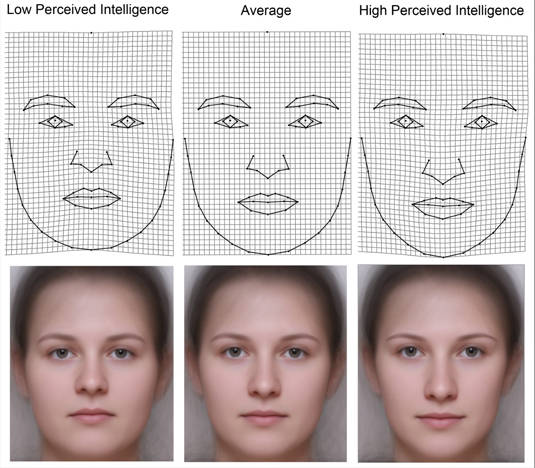 And that's true for both men and women (click to enlarge)
The results of the ratings were startling. "Our raters were able to estimate intelligence with an accuracy higher then chance from static facial photographs of men but not from photos of women," the paper concluded. "At the same time, we found no differences in the abilities of men and women to assess intelligence from static facial photos."
Also of interest – but perhaps less surprising – was the fact that the researchers found a positive correlation between perceived intelligence and perceived attractiveness, but that "We found no effect of IQ on perceived attractiveness, either for men or for women."
In addition, the 80 subject photos "were analyzed by geometric morphometric methods" to determine whether there are facial features and shapes that were correlated with intelligence, either perceived or determined through the IST-R.
They discovered that, yes, there are predictable stereotypes for perceived intelligence. "In both sexes," they write, "a narrower face with a thinner chin and a larger prolonged nose characterizes the predicted stereotype of high-intelligence, while a rather oval and broader face with a massive chin and a smallish nose characterizes the prediction of low-intelligence."
But why is the perceived intelligence of men well correlated with their actual intelligence, while the same is not true for women? The researchers posit a number of theories, including that "women are pervasively judged according to their attractiveness."
From the Czech researchers' point of view, "The strong halo effect of attractiveness may thus prevent an accurate assessment of the intelligence of women." ®