This article is more than 1 year old
That's it, we're all really OLD: Google's Gmail is 10 ALREADY
They just wanted to beat off Hotmail, AOL and Yahoo!
Gmail shook up the world of free web email in the mid-2000s, but 10 years after going public in 2004, Google's service offers much more than simply firing emails around the world.
When Google unveiled Gmail on 1 April, 2004, the company's co-founders reckoned the service was just its way of making email better. Gmail was, we were assured, simply the product of an engineer's free time (each Googler was allowed to spend 20 per cent of their working week toiling away on personal projects).
Given the state of the prevailing free web email services at the time, beating the state of the art from Microsoft, Yahoo! and AOL wasn't a taxing exercise.
A decade later and the number of Gmail subscribers ranges between 289 million and 425 million and it is either the biggest or third biggest, depending on who you believe.
Whether it's 289 million or 425 million isn't the point – or even the worst part/best bit (depending on who you are). What is the point, is that Gmail clawed out several million users from a standing start of zero, and did this years after the main mail-pushers had already staked out millions of users between them.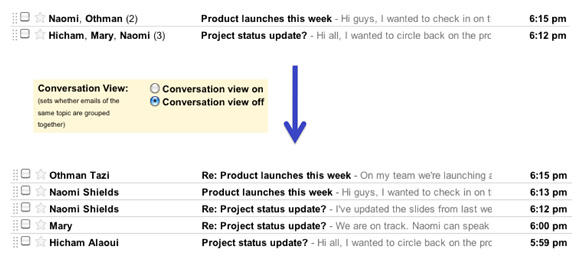 Threading: one of the features that sold Gmail to the masses
If Gmail had simply stayed a free web email service for consumers, that would have been the end of this story – but it didn't. It succeeded in doing something neither Hotmail, Yahoo! Mail or AOL succeeded in doing – and ate up business customers, too.
The breezy new features and slick services in Gmail were popular with consumers. And we all know what consumers are inside the hours of 9am and 5pm, Monday to Friday: they are employees.
That's why the mail service is where it is today: with Microsoft the last of the Big Three that's still fighting to keep Gmail as an email platform and collaboration stack out of the accounts it owns.
Last year, Google claimed it had five million businesses on its Gmail-related Google Apps, with Google partners busily installing Gmail and apps on tens of thousands of seats.
You've got
G

mail

Back in 2004, Google had arrived a little late to the field of free web email. Gmail was launched seven years after the company was incorporated in 1997 and it went up against Microsoft's Hotmail, Yahoo! Mail and AOL – the latter famous even in films for giving us the catchphrase of '90s romcom You've Got Mail. "You've Got Mail" was the "Just Google it" of its day.

Remember 2009's "undo" option?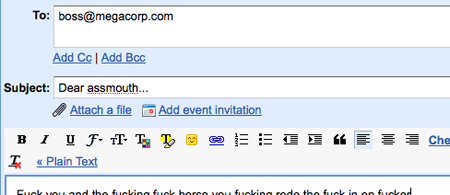 According to Larry Page, Gmail was a response to an email from a frustrated Google fan.
"She kvetched about spending all her time filing messages or trying to find them," Page said. "And when she's not doing that, she has to delete email like crazy to stay under the obligatory four megabyte limit. So she asked, 'Can't you people fix this?'
"Gmail solves all of my communication needs. It's fast and easy and has all the storage I need. And I can use it from anywhere. I love it!"
What "she", and we, got was buckets of storage, improved search and near-watertight spam protection.
Gmail came with 1GB storage, so you didn't have to constantly prune your inbox to stay under the provider's limit – which in the case of Microsoft was a measly 250MB. Neither did Google deactivate your account following period of inactivity, as Microsoft did.
But Gmail didn't merely fill in the gaps left by those who saw free email as an annoying obligation – a way to make a little free change off the user.
It offered better features in more areas – features the incumbents were forced to adopt.
Killer features
These features included:
Message threading – grouping related emails as "conversations", which meant you didn't have to wade through your inbox to find separate but related emails pertaining to a discussion of topic.
Google search – allowing the user to find messages more quickly and without needing to build a Byzantine complex of folders to organise their messages
Spam filtering – where the software learned to recognise the characteristics of unsolicited emails. It was much cleverer than the black-and-white lists that its rivals kept of those hawking fake Viagra and cheap printer cartridges.
Gmail was also mobile-ready from the start and worked in most browsers by default.
Google didn't exactly launch Gmail straight away: you had to be invited to a closed beta test program. Then the masses were admitted. The preview was on 1 April.
The incumbents soon understood that Google was on to something. Two months after Gmail launched, Redmond upped the Hotmail inbox from 2MB to 250MB. But Microsoft's business model didn't change – it would still charge you extra for small gobs of extra storage - $19.95 a year for an extra 10MB to $59.95 for up to 100MB for Hotmail. Microsoft also flogged "premium" options.
It was almost like Microsoft wanted you to go to Google.