This article is more than 1 year old
Google asks April Fools: Want a job? Be our 'Pokemon Master'
Mountain View is prankin' like it's 1999...
Video Google's Maps team has made an early entry into this year's April Fools' crop of pranks with the introduction of Pokemon to the mobile application.
The company said in a video that it would be adding the Pokemon-tracking functionality as part of a campaign to hire a new "Pokemon Master" position within the company. Those who can "catch" images of all 150 Pokemon on their mobiles would be eligible to take the new role of "Pokemon Master" within the company.
To help promote the search, the company has added a new feature to the iOS and Android versions of Google Map which adds the Pokemon-tracking ability. Users can press a special button within the Google Maps screen to locate nearby Pokemon which can then be "caught" with a tap and catalogued on Maps.
According to Google's posting, the "Pokemon Master" will be selected on 2 April, after the company conducts an internal "battle" to decide who makes the hire.
"We value employees who are risk-taking and detail-oriented, have deep technical knowledge, and can navigate through tall grass to capture wild creatures," read a post to the Google Asia Pacific blog.
"It turns out that these skills have a lot in common with another profession — that of the Pokémon Master."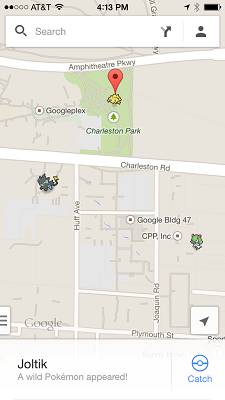 This should go without saying, but least you still harbour dreams of being an IRL Google Pokemon master, the contest is an April Fools' joke from the Chocolate Factory. As they're wont to do every year, companies throughout the IT and consumer electronics spaces are planning press releases, videos and other joke campaigns to run tomorrow.
Past Google gags have included 8-bit NES Maps and an 'ambinavigation' tool to bring multitasking options to Chrome.
In other April Fools' tedium news, Richard Branson has gotten his Virgin Airlines crew in on the jokes, posting a page touting a supposed partnership with Nest to offer personal climate control to passengers. Options range from "Chicago Polar Vortex" to "Cancun Afternoon". ®