This article is more than 1 year old
Intel's DIY MinnowBoard goes Max: More oomph for half the price
Raspberry Pi's ARM not enough for your hacking needs? How about 64-bit x86?
Updated Intel has announced a new version of its pricey Raspberry Pi challenger, the MinnowBoard, which upgrades its Atom processor, shrinks its footprint, and slashes the price in half for one of two new models.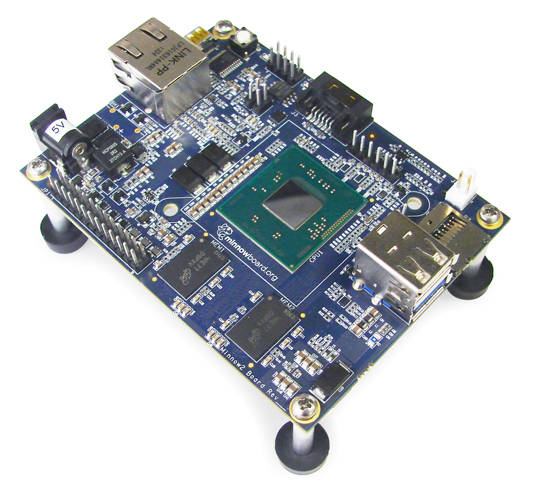 This is a prerelease card – don't worry, the production units will include a CPU heat sink (click to enlarge)
The new single-board computer – named MinnowBoard Max in a stunningly inventive bit of nomenclature – is powered by a 64-bit Atom processor, a step up from the 32-bit Atom E640 in the original $199 MinnowBoard released last July.
Two models will be available when the MinnowBoard Max ships, estimated to be this June: a version with a single-core 1.46GHz Atom E3815 with 1GB of DDR3 RAM will run $99, and a dual-core 1.33GHz Atom E3825 version with 2GB will cost you $129 (other configurations may also be made available). Both are 22nm parts formerly code-named "Bay Trail", and both have Intel HD graphics on the die, with the E3815's clocked at 400MHz and the E3825's at 533MHz.
Just by way of comparison, you can pick up a Raspberry Pi Model B with 512MB of RAM for around forty or fifty bucks, give or take. The Pi's system-on-chip, on the other hand, contains an aging 32-bit 700MHz ARM1176JZFS (ARMv6) core and a Videocore 4 GPU, so you pays yer money and you takes yer choice.
Not that the Pi's SoC isn't powerful enough for many of the inventive DIY roles that Pi fanciers have tasked it with, but the 64-bit x86 Atoms in the new MinnowBoard Max models will certainly provide it with enough grunt to take on tasks that would leave the Pi panting in exhaustion.
In addition to being more powerful and less expensive, at 3.9-by-2.9 inches the MinnowBoard Max is smaller than its 4.2-inch-square predecessor. The Max also ups the board's operating system capabilities, now supporting – according to MinnowBoard.org – Debian GNU/Linux compatible with Yocto Project code, as well as Android 4.4. The earlier MinnowBoard was limited to Angstrom Linux, also based on Yocto Project code.
As before, the MinnowBoard Max has two USB ports plus microSD and 10/100/1000 Ethernet, but now upgrades one of those USB ports from 2.0 to 3.0. A 3Gb/sec SATA connector is included, and digital video and audio is available over a microHDMI connector – the earlier board's analog audio is gone.
A single lane of PCIe 2.0 and other I/O niceties – including another USB 2.0 and 3Gb/sec SATA connection – can be accessed from the board's high-speed 60-pin connector located on the bottom of the board, and a 26-pin lower-speed I/O connector sits on top.
More information on the MinnowBoard Max can be found at LinuxGizmos.com and MinnowBoard.org's FAQ. As with the original MinnowBoard, the Max will be manufactured by CircuitCo, also makers of the ARM-based BeagleBoard, so you might want to keep an eye on their website, as well. ®
Update
An Intel spokeswoman contacted your Reg reporter to offer a clarification. "In your article," she wrote, "you allude that Intel released Minnowboard, however, MinnowBoard.org is actually a non-profit organization that Intel is involved with to provide recommendations on Intel architecture." Noted and corrected.