This article is more than 1 year old
Soccer's dull? A MIND-CONTROLLED robo-suit will be used to take first World Cup 2014 kick
Checkmate, nerds
Pic When the football (soccer for our American readers) World Cup 2014 kicks off in June, the first person to put boot to ball will be a Brazilian paraplegic person using a robotic exoskeleton controlled by an electronic skull cap.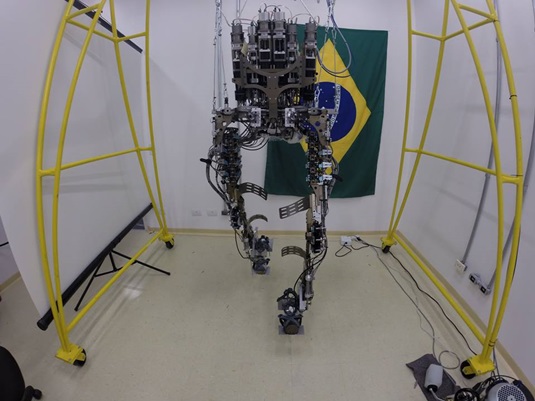 MOre intelligent than Wayne Rooney?
The robotic exoskeleton, developed by neuroengineer Miguel Nicolelis at Duke University in North Carolina, uses hydraulic arms and legs controlled from a battery-powered computer backpack, with stabilizing software keeping the device upright while in motion.
"The movements are very smooth," Nicolelis told the Guardian. "They are human movements, not robotic movements."
Electroencephalographic sensors attached to the controller's skull pick up the signals that control motion and with each step the system sends an electrical signal to the user's forearm so that they can feel the motion in real time.
The suit is undergoing final trials, and nine paraplegic men and women are being trained to control it. The team has now set up a Facebook page to track progress as the time counts down for that first kick.
It's a long process, but the team behind the robot believes they'll be ready before the first kickoff has to be taken on June 12 at the center of the Arena Corinthians stadium in São Paulo, Brazil. But the researchers are also checking that there'll be no unexpected stumbles.
As part of the plan, the team has been checking out if the thousands of mobile phones carried by those watching the first game would interfere with the controls of the exoskeleton. They think the signals won't be garbled by endless tweets and Facebook updates, but are fitting the exoskeleton with airbags just in case.
If all goes well, it will be a great spectacle – the first kick is a ceremonial gesture to mark the start of the competition's first game. But there is a more serious point to all this. The eventual goal of the program is to develop a system that will make wheelchairs a thing of the past.
"All of the innovations we're putting together for this exoskeleton have in mind the goal of transforming it into something that can be used by patients who suffer from a variety of diseases and injuries that cause paralysis," Nicolelis said. ®