The UK government has completely screwed up the deployment of faster internet connections to Brits living in the countryside because it failed to properly address competition concerns as a result of its awarding all its broadband contracts to BT, politicians concluded today.
MPs sitting on the public accounts committee published the latest in a series of acerbic reports attacking Whitehall and local government's £1.2bn Broadband Delivery UK project this morning.
The panel's chair, Labour MP Margaret Hodge, said that BT was "effectively in a monopoly position", after it bagged all 44 contracts under the BDUK scheme.
The race for funds became farcical following Fujitsu's decision a year ago to back out of tendering for the cash.
It meant that BT, which was unable to justify ploughing its own money into harder-to-reach parts of Blighty to invest in fibre connections, was left as the only preferred bidder - making the entire process an academic one for the erstwhile state monopoly.
"Despite our warnings last September, the Department for Culture, Media and Sport [DCMS] has allowed poor cost transparency and the lack of detailed broadband rollout plans to create conditions whereby alternative suppliers may be crowded out," Hodge thundered.
She added:
Whilst BT claims it is making further concessions, this is not impacting on rural communities. Local authorities are still contractually prevented from sharing information to see if they are securing best terms for the public money they spend. Communities can still not access the detailed data they need to understand whether they will be covered by BT's scheme in their area. Other broadband providers might be squeezed out of the rural market by BT's actions.

BT's monopoly position should have been a red flag for the Department. But we see the lack of transparency on costs and BT's insistence on non-disclosure agreements as symptomatic of BT's exploiting its monopoly position to the detriment of the taxpayer, local authorities and those seeking to access high speed broadband in rural areas.
The committee claimed that the DCMS had repeatedly ignored MPs' warnings about stifling competition during the rollout of broadband mostly in the countryside. It threatened to once again recall officials and BT to Parliament if the department failed to improve "its approach to protecting public funds".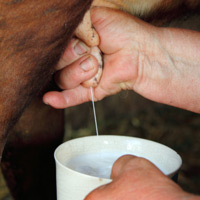 Who's milking the cash cow in rural Britain?
The politicos recommended that the DCMS, which is headed up by Secretary of State Maria Miller, should work "urgently" with local councils to publish detailed mapping of their implementation plans. Searches should be made available down to full (7-digit) postcode level, they said. Speed of service information should also be provided, the MPs added.
"Meaningful competition" did not happen under the BDUK scheme, the committee concluded.
It said that "the lack of competitive tension from other bidders put BT in a strong position and restricted the Department's ability to insist on value for money safeguards such as unfettered cost transparency.
"We will be seeking assurance that the Department has taken full account of our concerns in delivering its next programme, in seeking to maximise competition, in promoting value for money and in ensuring that the supplier contributes fairly to the capital cost."
In September last year, the PAC urged Miller's department to halt its plans to spend a further £250m up to 2017 until it had secured "proper competition and value for money for improving superfast broadband after 2015".
But the committee stopped short of telling the DCMS not to release funds today. Instead it advised the department to "work with local authorities to identify opportunities to promote competition and value for money; including considering alternative solutions, joint working and fair capital contributions from suppliers." ®