The screen is pretty sharp although it's not as readable in bright light as the Nokia. At 1920 x 1080 and 5 inches, that's 440 pixels per inch and it goes pretty much to the edge of the phone with the excellent stereo speakers top and bottom.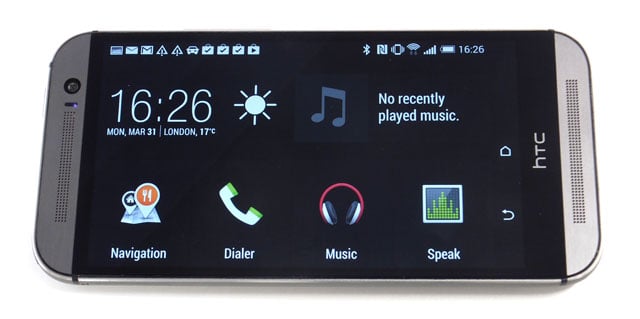 Stereo speakers work out nicely in landscape mode
Mobile phone manufacturers love adding their own user interfaces to Android. Samsung has Touchwiz, and HTC has Sense. This is the sixth generation of Sense, which naturally HTC called Sense 6.0. All the manufacturers believe they can lock you into using their "superior" UI you'll stay loyal to them. One nice new feature is a double-tap to wake the phone – akin to Windows Phone's Glance mode. Different swipes will do different things to wake the phone when it is asleep. It's great for the dedicated phone user but generally falls into the "can't be bothered" category for the majority.
One of the pieces of software the company thinks you'll find compelling is Blinkfeed. This is RSS on steroids, a home screen which gives you snippets of information and is aimed at the ADD generation. You can add your own sites but they look a bit odd. The content  works best when specially formatted for Blinkfeed and comes from companies with whom HTC has an agreement; however with the launch of the M8 it announced the introduction of an SDK.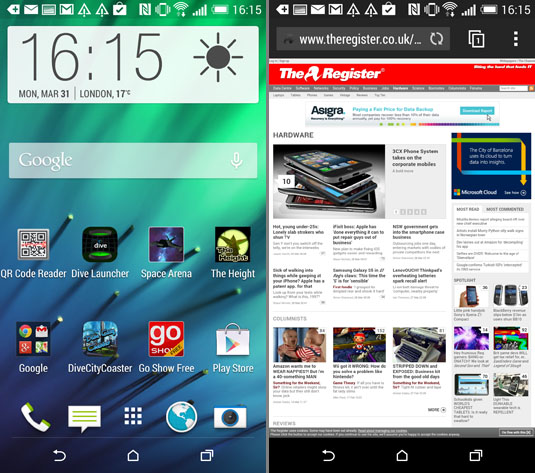 Homescreen and web browsing
HTC has announced – but not yet launched – a picture- and video-sharing site called Zoe. This is an online gallery which is half stills and half short videos, a bit like animated gifs or the pictures of waving people in The Daily Prophet. When you take a Zoe, it records a mashup of 3.6 seconds of video and 20 stills, recording the video at HD and the stills in a burst.
There is then post-processing software which helps you build the Zoe by adding a soundtrack where beats can be synchronised with the images. You can upload this as an MP4 to YouTube or Facebook, but HTC hopes you will upload it to the dedicated Zoe site and circulate the dedicated URL for your friends to share and enjoy.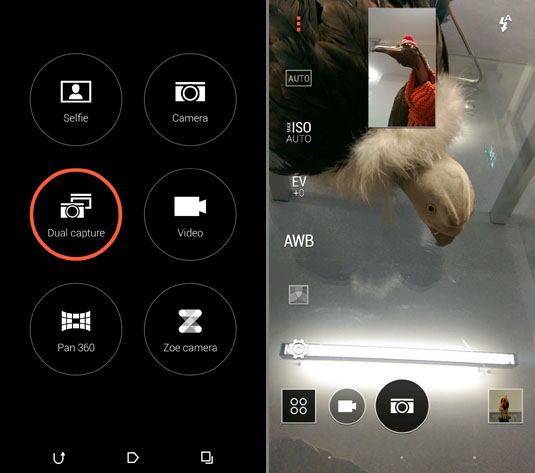 Camera configured in dual mode (left), various mode options (right)
I used to be one of those people who sat at a phone company wondering what new things we could build in. About once a week someone would suggest to me that we made phones open garage doors (this usually came from someone who had just lost their garage remote down the back of the sofa). Another popular request was that of TV remote control.
The HTC One claims to be the "only remote you need" because it has an infrared lamp on the front and software which knows the codes for a host of TVs, as well as an electronic programme guide. But really it is something that must have just seemed to be good idea at the time. It isn't. And not all AV devices use IR.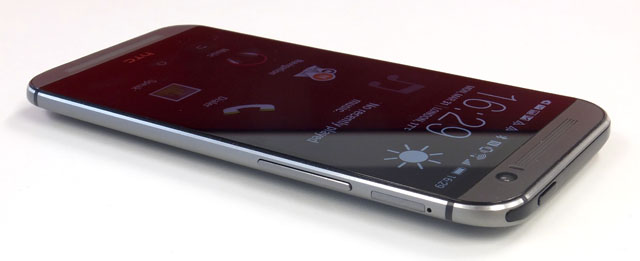 MicroSD card expansion slot and volume controls
The battery life is fine, but not outstanding. Anyone with a Candy Crush addiction will find it won't make it to the evening, but with relatively normal usage it will last a day and a bit. This is helped by the Qualcomm Snapdragon 801 which also powers the Samsung and Sony, and like Sony, HTC has – or at least will have – a super-miser mode which reduces the phone functionality to that of a feature phone and correspondingly improves battery life to two weeks on standby.
Similar topics