Watered-down juice to sip on the way home
It's expected that the miser mode will be used by people on the last 10 per cent of battery capacity wanting to eke out the power until they get home.
At 2600mAh, the battery also adds to that perceived quality feel, both in being heavy and non-removable. Fixed batteries mean phones can be glued and screwed together much more tightly, which makes the phone that bit more rigid. A convertible might be more fun, but a fixed head is always going to flex less.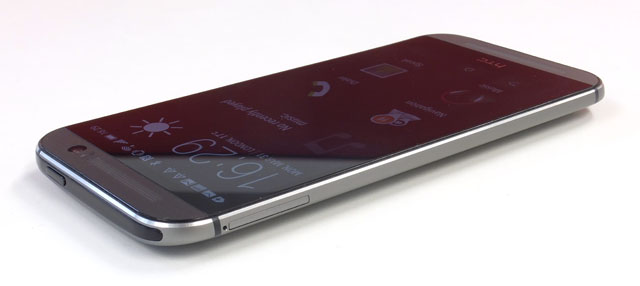 Nano Sim card slot
The processor doesn't just improve the battery life. At 2.3GHz and quad-core too, it zips along brilliantly. It's helped by having a Adreno 330 graphics processor, but using the AnTuTu benchmarks it scores 33822 with a multitask figure of 6452 and runtime of 3591. In the past HTC has been caught tweaking phones to know when they are running benchmarks and then turning up the wick, so perhaps these class-winning figures need to be treated with a little caution.
Something HTC likes to shout about is how the phone sounds. Called Boomsound, it really is very good – loud and clear. Having enough space in the phone, behind the speakers for the speakers, that aren't too tiny, to work properly helps out here, as does the dedicated audio DSP which can independently process bass, mid-range and treble.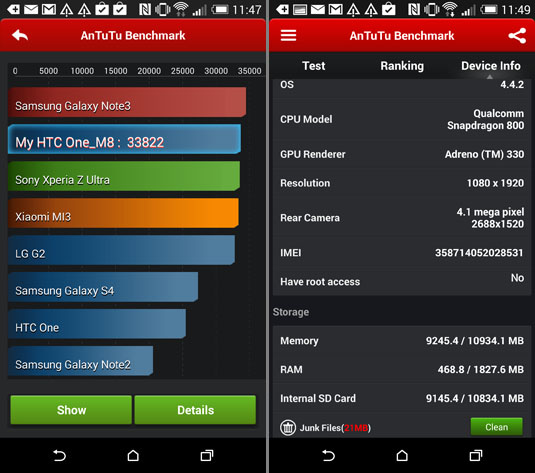 AnTuTu results and the inside specs
As the speakers need some amplification, a knock-on effect is that the headphones get a volume boost out of the same circuitry too. Making it even better for annoying fellow public transport users. The top speaker is used to channel audio for phone calls and also sounds better than most. In general use, the reception and call quality put in a respectable performance.
Before you get to enjoy any of the above, the phone needs configuring, which was quite a rigmarole. Indeed there were so many things to do at set-up: the web-based system using a PC and syncing over the air with the phone works well but there is a lot of it to be done. Alas, you can't simply plug it in with a USB cable and copy over some photos, without it prompting you to instal the HTC Sync Manager. PC users can get away with ignoring this, as the storage does mount. However, on the Mac, the only way is to go through the motions and instal it, as not even Android File Transfer works.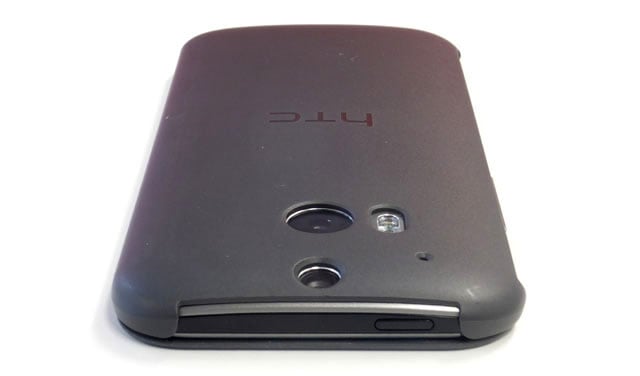 Differentiating factors: just how many cameras do you need on a mobile phone these days?
The Reg Verdict
HTC has clearly worked very hard on the One: the problem it has is that it's starting in the same place as all its rivals. With the latest chips from Qualcomm and latest versions of Android from Google, it's very hard to differentiate. There are some nice accessories like a case which shows the time through holes when you tap on the phone, and the camera is clever, but ultimately its greatest strength is the design and that's never turned Alfa Romeo into a BMW beater. ®

HTC One M8: Reg man takes spin in Alfa Romeo of smartphone world
Latest Quad-core Android smartie with an innovative dual-camera system and a clever case.
Similar topics