This article is more than 1 year old
Scality slips its Ring around Kinetic drives
An object of Seagate's exercise
Scality is developing its RING object storage system to use Seagate's Kinetic drives.
These drives implement an on-board key/value store and are directly accessed over Ethernet using Get and Put requests. Each drive has two 1Gbit/s Ethernet ports.
Scality's RING storage uses scale-out nodes that can grow to multi-petabyte levels of capacity.
Seagate developed its Kinetic drives with the aim of rendering a storage array controller layer - what Seagate calls the storage server tier - in the application-to-disk-access stack redundant and thus giving large scale/big data storage providers, either public or in-house, a more cost-effective storage infrastructure.
Both Scality's and Seagate's canned quotes about this talk about the "software-defined data centre". Scality CEO Jerome Lecat said, for example: "The Seagate Kinetic Open Storage platform represents exactly the kind of innovation required to achieve the full promise of the Software-Defined Data Centre."
That's part of the pitch, though. After all, storage array controllers run software, ergo...
There are few details. We know Scality is testing its Kinetic RING in the Rausch Netzwerktechnik Bigfoot Object Storage Solution (BOSS) which is aimed at scale-out cloud customers. A BOSS 4U chassis contains 72 disk drives, according to the Seagate release giving 288TB. It uses Seagate's 4TB Kinetic drives. A BOSS Rack of 10 x 4U chassis provides 2.8PB of capacity.
The 4U chassis has an Ethernet switch on its backplane. In effect these can be viewed as Kinetic JBODs (just a bunch of drives).
We wrote about Seagate and Rausch Netzwerktechnik GmbH in early March. Now Scality has been revealed as being involved too, trying to make the BOSS RING as it were.
The Rausch website has an added BigFoot Object storage product, added to the XXL and JBOD variants we mentioned before. There are also BigFoot XXFast and XXCold products.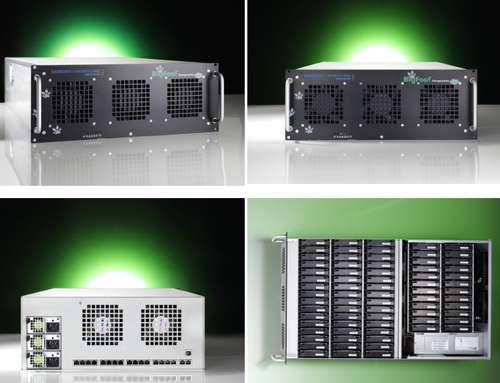 BigFoot Object Storage chassis and rack
The BOSS object storage text on the site says each drive has its own IP address.
Scality storage is based on a ring structure of X86 server nodes that store objects and operate in parallel. The servers provide the storage media. It must be modifying its RING disk storage access to talk to the Kinetic drives via Gets and Puts. We might imagine that each Scality X86 node could have an Ethernet-attached 4U BOSS chassis.
There is clearly a lot of processing to do with object storage and thus the balance between x86 CPU/memory resources and the amount of storage must be considered, otherwise you could load a single X86 server with a rack of disks and away you go - only you don't because performance would probably suck.
So we need, when thinking about BOSS Object storage density, to think about adding the requisite RING X86 server nodes as well. In effect you might think, you would need 1U of server resource per 4U or 8U JBOD of Kinetic drives. There's bound to be a rule of thumb here.