After months of speculation, Amazon has finally released a $99 set-top box that'll tout TV programs, music, and games to subscribers.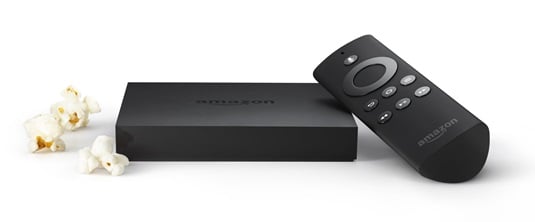 0.7-in thick and a rather dull design ... same price as the Apple TV without the gloss
"Tiny box, huge specs, tons of content, incredible price -people are going to love Fire TV," said CEO Jeff Bezos at the launch in New York of Fire TV.
The 0.7-inch Android-powered box carries an unnamed quad-core processor, 2GB of RAM, a Qualcomm-designed Adreno 320 graphics engine, plus Wi-Fi and Bluetooth comms, the latter used to control the system via a microphone-fitted remote.
Later this year Amazon will release mobile apps to control the unit, and allow smartphone and tablets to act as a second screen for viewing and paying for more content as desired. The system follows the DIAL multiscreen standard and APIs will be published for third-party developers to tap into.
Fire TV's primary function is a media player, capable of streaming 1080p video with Dolby Digital Plus surround sound.
Amazon Prime subscribers get access to the Fire Prime Instant Video streaming service, and new buyers get a 30-day free trial: this service, as its name suggests, pipes TV shows and movies on demand to Fire boxes. Viewers still can tune into Netflix, Hulu Plus, and Showtime over the internet without a Fire Prime Instant Video subscription. Yes, it supports Netflix, a rival to Amazon-owned Lovefilm streaming biz.
Partners are all very well, but Bezos' gang has spent over a billion dollars in the last few years developing its own original programming via Amazon Studios. Results have varied: the lamentably bad comedy about life in a Silicon Valley startup Betas has now been cancelled, but political comedy Alpha House is proving popular enough to renew.
To avoid crappy connections, Bezos expounded on said Amazon's Advanced Streaming and Prediction (ASAP) software, which automatically downloads requested material when it becomes available, and shows you may like based on what you've watched and Amazon's huge store of users' buying habits, which the Fire will add to significantly. That downloaded video will be ready and waiting for you to watch straight away, if you so choose.
The Fire TV also comes with software to lock down the box, which is useful for parents: grownups can set up profiles to define what and when their kids can see stuff from the device. As a digital babysitter, Amazon is also offering a FreeTime Unlimited package of unlimited content for kids aged 3 to 8 at a cost of $2.99 per youngster or $6.99 for the whole family.
Content will provide the bulk of the profit margin for Amazon on the Fire, but Bezos also wants a slice of the gaming market as well. For an extra $40, Fire TV owners can buy a gaming handset (and $10 of in-game currency) to monopolize the set-top box for hours at a time.
At launch, Amazon has lined up games like the hugely popular and time consuming Minecraft and says it is working with EA, Disney, Sega and other to develop titles for the system. Games will cost an average of $1.85 each to buy, Amazon said, an average helped by the fact that many will be free.
The online bazaar also announced a $6.99 first-person shooter dubbed Sev Zero which it had developed specifically for the Fire. Buyers of the gaming handset get a copy for free at launch.
As for music, the Fire can tune into the Amazon Cloud Player, and the box supports streaming from Pandora and iHeartRadio. From next month users will also be able to use it as a hub for any music they've bought from Bezos' emporium.
The gaming capabilities do give Amazon an extra string in its bow when going up against its main competitor, the $99 Apple TV. Bezos made frequent mention of his Cupertinian rival, pounding the message that the Fire was streets ahead of Apple's $99 black box, although he saved a little time to diss Google's Chromecast and independent dongle manufacturer Roku.
Amazon insisted that the $99 price tag was as low as it could go, and that it's not going to be making more than cents per unit from the device. Instead it'll reap lots of subscription and impulse purchase revenue and gather more information on buying habits to target more stuff at users. ®
Similar topics