This article is more than 1 year old
Tintri: We have ZERO interest in adding compute to storage
'Smart storage' firm's doing its own flash-first thing
Comment Under new CEO Ken Klein, hybrid array startup Tintri is sticking to its virtualised server-centric networked storage knitting and embracing the cloud as a third tier cold storage vault.
Currently a VMware-focused storage supplier using VMware storage abstractions, such as virtual machines (VMs) and virtual disks instead of LUNs and RAID groups, Tintri is expanding out its virtualised server remit to support KVM comparatively soon and Hyper-V around the end of the year.
We met Ken Klein in London and he talked entertainingly about the competition and the main trends affecting networked storage.
For example, he characterised the overall storage industry as being dominated by a Great White Shark – one bite and you're dead – EMC. Then there is a one-eyed shark, teeth not as sharp and not as deadly – though still a formidable force – NetApp. Also swimming in the storage sea are Barracudas, such as, we presume, Dell, IBM, Nimble Storage, Tegile and others - we're paraphrasing here.
Threatening all is a "red tide", the cloud, which is not something you're going to be able to swim away from. Suppliers simply have to respond to it.
Klein said VDI is currently about 30 per cent of Tintri's business, server virtualisation. He adds: "In two months we'll support KVM, which will pave the way for OpenStack support. Towards the end of the year we'll support Hyper-V."
He reckons Tintri stands alone with its VM- and application-aware storage software. I suggested Tintri was one of three leading hybrid vendors but Klein having none of it: "Neither of their products have been designed to be application-aware [with VM-specific attributes]," he claimed.
Rex Walter, Tintri's VP for technology, chimed in: "We have a flash file system and a VM-oriented and app-centric storage system. That's fundamentally different from accessing storage as LUNs. Nimble presents iSCSI LUNs. Tegile presents its storage as LUNs. We manage VMs and virtual disks, not files and blocks."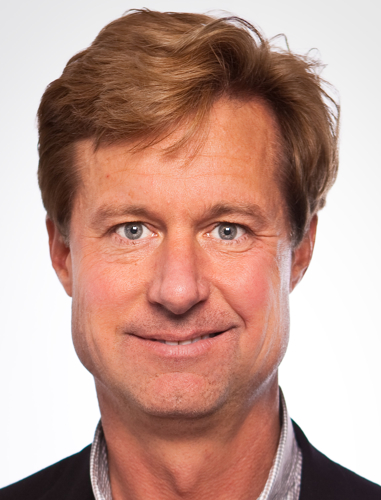 Tintri CEO Ken Klein
I wondered if Tintri arrays could become all flash, but still maybe with multiple tiers. Klein said: "We have disk in our flash-first design for reliability, capacity and old storage. If we elected to go all-flash we could," and pointed out that disk was nine times cheaper than flash at the moment.
Walter interjected a comment about start-up all-flash array vendors: "They're doing what legacy vendors do but faster. It's not built from the ground up as smart storage. They're blind to the application, VM-blind. Fundamentally they're dumb and static and don't dynamically reassign resources," he claimed.
Tintri is pleased with its customer retention and repeat purchase trends. It claims the average customer is spending 2.5 times their initial purchase within 12 months.
Overall revenues grew 115 per cent year-on-year in 2013. The cloud side of their business grew 200 per cent over the same period. Hopefully Tintri will exit 2014 with a $100m/year revenue run rate. At the moment it has $90m in cash and a 70 per cent gross margin, which is quite healthy.
The cash will be used to build out its infrastructure and increase the marketing effort. Klein also wants to emphasise Tintri's culture, and he indicated it's focused on a "One Tintri" concept.
What about about acquisition? "Tintri will become the next great independent storage company. ... We have zero interest in being acquired, zero."
Converged storage? Pah!
What about converging compute and storage? "We have zero interest in adding compute to storage. You can take that to the bank." He suggested we ask Nutanix what its gross margins are and commented that he thought it was difficult for Nutanix to scale. VMware's VSAN was, he thought, a credible threat to Nutanix and Simplivity.
The company is evolving to be a 100 per cent channel company. It's about 90 per cent in the USA and 100 per cent in EMEA. He wants to go deep with channel partners, talking of 150 or so world-wide. Klein reckons he can recruit from;
NetApp, whose partners are disappointed with VMware storage sales
EMC resellers looking to attack a vulnerable NetApp and using Tintri as the tip f their spear
Next-generation infrastructure resellers.
For Klein the red tide idea is serious: "Cloud is an existential threat to storage suppliers. We're highly automated and deliver great performance and reliability for cloud service providers, for both hybrid and public clouds."
Also Tintri's vision is to integrate with the cloud and, for example, use the public cloud for cold data. But it won't happen immediately, so perhaps this is a 2015 story. Customers, we were told, are sing the private cloud for replication right now. It's not too much of a leap to suggest they'll progress to the public cloud.
Lots of ideas here and Tintri should exit 2014 with a much broader server virtualisation base, a stronger channel and, Klein and Walter hope, still no credible VM app-aware competing storage company.
The great challenge is grooming the broad mass of storage customers off their LUN, volumes and RAID groups fix and getting them to take VM-aware storage ideas on board. That's Tintri's big task and there, as a networked storage supplier it treads the tightrope alone. ®