This article is more than 1 year old
Back off, Siri! Microsoft debuts Halo beauty Cortana
Major Microsoft mobile OS update to arrive in coming months
Build 2014 Windows Phone took center stage at the opening keynote of Microsoft's Build developer conference on Wednesday, with the main spotlight falling on Cortana – a new personal digital assistant designed to compete head-to-head with Apple's Siri and Google's Google Now.
Redmond has been promising a major revision to its smartphone platform for months, and although the Windows Phone 8.1 update still isn't ready to ship, Build, here in San Francisco, gave developers a first look at many of its new features.
Among them are a few long-anticipated capabilities, such as the new Action Center for displaying notifications, an onscreen keyboard that supports Swype-style gestural typing, and the ability to personalize a phone's lock screen with a variety of themes.
But by far the biggest change is Cortana – named after an AI character from Microsoft's Halo videogame franchise – which Redmond is positioning as an entirely new way for Windows Phone users to organize their data and interact with their devices.
"Cortana is powered by Bing," Joe Belfiore, corporate VP of Microsoft's operating systems group, explained during the Wednesday Build keynote. "So she understands the entire internet. You could say she understands everything about the world."
Yes, Microsoft insists on referring to its new assistant software as "she" – perhaps the folks in Redmond have never heard of a male personal assistant before – and has given it a female-sounding synthesized voice to match.
Belfiore said Microsoft even met real-world personal assistants to find out what they thought made them good at their jobs, with the aim of making Cortana feel as close as possible to a digital replacement for the real thing.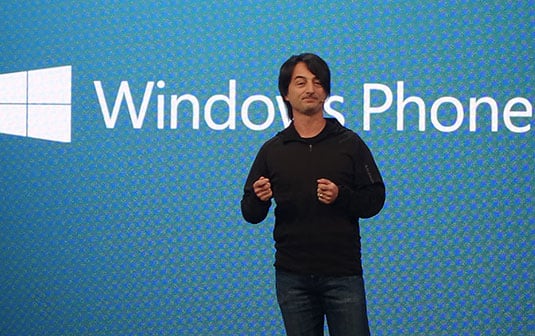 Microsoft's Joe Belfiore made Cortana the star of the opening keynote at this year's Build conference
Ask Cortana questions like "What's the weather in Hong Kong?" or "What are the best Chinese restaurants in San Francisco?" and the software will crunch thoughtfully for a moment before producing an answer derived from Bing's various data feeds.
Cortana also replaces the built-in search function on Windows Phone, providing an all-new, interactive user interface for searching and retrieving local data.
You can even give Cortana commands, such as, "Set a doctor's appointment for 8am on Tuesday," and the software will update your calendar accordingly.
According to Microsoft, Cortana tailors its answers to individual users' needs by remembering past search queries and even scanning email stored on the phone for relevant information (if the user gives it permission to do so).
It stores these customizations in an area called its "notebook," which is fully accessible to the user – and editable, should Cortana develop any unwelcome obsessions.
Belfiore ran through various features of Cortana during the keynote, but not every demo went off without a hitch. The software misheard several vocal cues and it repeatedly refused to convert Celsius temperatures to Kelvin, which helps explain why Microsoft has chosen to do a soft launch.
"We're launching Cortana as a beta because we're training the service on the back end with lots and lots of voice utterances to improve its speech recognition," Belfiore said, adding that Redmond is also training the software to be better at answering sports-related questions.
Other than Cortana, Windows Phone 8.1 will also deliver a few new features for enterprise users, such as support for enterprise VPNs and S/MIME encrypted email. It will also update the bundled web browser to Internet Explorer 11, bringing Windows Phone's HTML engine up to par with that of the latest desktop Windows.
But developers who were hoping to leave Build with the new OS installed on their devices came away disappointed, as the code is still not yet ready for wide deployment.
According to Belfiore, registered Windows or Windows App Studio developers will be able to download and install Windows Phone 8.1 "starting this month," though he didn't give an exact date.
Brand-new phones with Windows 8.1 preinstalled will go on sale "as soon as very late April or early May," he said, with the first such devices reportedly to arrive from Microsoft's soon-to-be-subsidiary, Nokia.
As for when owners of existing Windows Phone handsets can expect the update to arrive on their devices, Microsoft said only that it is working with carriers and hardware makers to ensure the code is reliable on each device, and that Windows Phone 8.1 will begin rolling out to consumers as an over-the-air update "in the next few months." ®