Google is exposing the beating heart of its distributed infrastructure to developers of its cloud services.
The company announced on Wednesday that developers using the us-central1-b and europe-west1-a zones of its Google Compute Engine infrastructure-as-a-service will now be running their apps directly on top of Andromeda, Google's network virtualization technology.
"Andromeda is a Software Defined Networking (SDN)-based substrate for our network virtualization efforts," explained Google distinguished engineer Amin Vahdat in a blog post on Wednesday. "It is the orchestration point for provisioning, configuring, and managing virtual networks and in-network packet processing."
The Andromeda technology allows Google to offer developers "distributed-denial-of-service (DDoS) protection, transparent service load balancing, access control lists, and firewalls" along with bandwidth provisioning, virtual machine migration, and increased performance regarding network latency.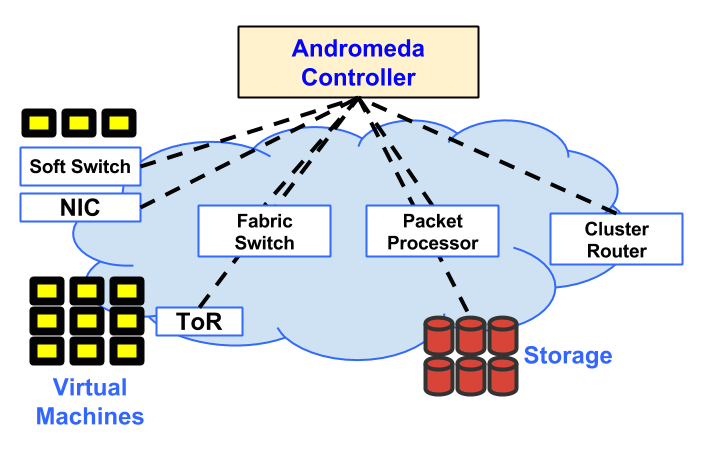 Andromeda: the fundamental networking substrate of Google's cloud
"Andromeda will enable Cloud Platform to expose more and more of Google's raw network infrastructure performance to all GCE virtual machines (VMs)," he wrote in a blog describing the technology. "Some of the most valuable enhancements enable VMs built on supporting Linux kernels to exploit offload/multi-queue capabilities. I encourage interested customers to create new GCE VMs using the Debian backports-image."
The company gave further details on the technology at a presentation at the Open Networking Summit in early March, where Vahdat said Andromeda splits network function virtualization (NFV) between software switches and "commodity packet processors". This gives it a large number of features but not at the cost of network performance.
Google's goals for NFV are "native performance, full isolation, extensible NFV, high available [and] scale out to many VMs," read a slide given by Vahdat at the conference. Given the scale at which Google operates, "many VMs" is likely better summarized as millions.
The Andromeda reveal follows Google dramatically cutting the prices of its cloud storage and compute last week as the company attempts to create another non-advertising business for itself and in the process go head-to-head with Amazon and Microsoft in a battle for (more) data from cloudy consumers.
"Cloud Platform's network will continue to be an agent of disruption to cloud computing moving forward," Vahdat wrote in the blog. Not quite a declaration of war, but as good a check out our advanced munitions claim as we here on El Reg's cloud desk have heard in a while. ®
Similar topics