Greenpeace reveals WORLD'S FILTHIEST CLOUDS – and the cleanest may shock you
'False assumptions ... inaccurate data' thunders one accused tech giant
Amazon, Twitter and Oracle have been slammed by Greenpeace for their lack of transparency over how they source the energy for their data centers.
Meanwhile, Apple, Facebook, and Google were praised by the hippie collective.
Greenpeace lambasted Amazon for its sparing use of "clean energy" in its data centers in a report Clicking Clean: How Companies are Creating the Green Internet [PDF] which was published on Wednesday.
"While companies like Apple, Facebook and eBay have led the broader sector to be more transparent about its energy use, Amazon steadfastly refuses to reveal any details about its energy footprint to its customers or the public," Greenpeace blustered.
Regular readers of El Reg are surely aware that Amazon's default stance is of secrecy. The company rarely interacts with the press, hardly ever discloses details of its infrastructure, doesn't publish technical papers, nor takes charge of open-source projects for some goodwill points.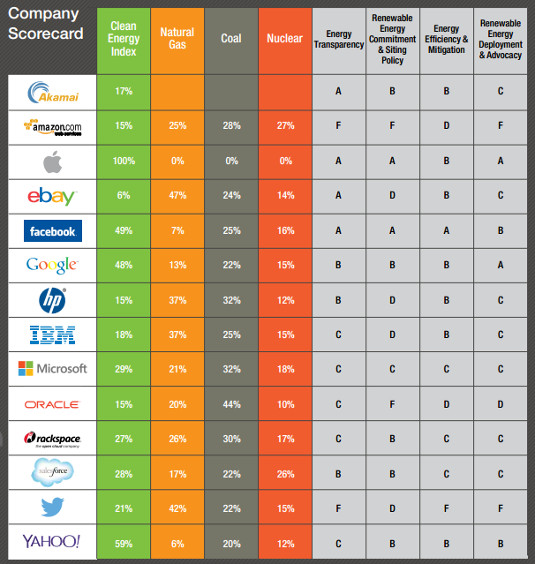 Amazon came in for a drubbing from Greenpeace over its energy use
In many ways, Amazon behaves more like a mega-retailer than a consumer web giant, and is just as withdrawn as Tesco or WalMart when asked to give details on its innards. And, just as with mega retailers, we can assume that Amazon has a significant motivation to cut power use within its own data centers so it can increase the margin on its Amazon Web Services cloud business.
"Running IT infrastructure on the AWS Cloud is inherently more energy efficient than traditional computing that depends on small, inefficient, and over-provisioned data centers," the company told El Reg in a statement. "We agree with Greenpeace that technology leaders should help safeguard the environment by implementing both efficient use and clean sources of energy. However Greenpeace's report, Clicking Green, misses the mark by using false assumptions on AWS operations and inaccurate data on AWS energy consumption."
Two of Amazon's ten global data center regions run on "100 per cent carbon-free" power, the shopping biz said.
Other companies to get a drubbing from the group included Oracle and Twitter.
In its report, Greenpeace argued that given the vast amounts of electricity consumed by cloud computing, all companies have a responsibility to plug their bit barns into renewable sources of energy. We would point out that, as per a report from Digital Power Group, global information technology consumes about 10 percent of the world's annual electricity consumption, with data centers coming in at perhaps one per cent of the total.
Therefore a better target for Greenpeace's bright green ire could be the tech goliaths responsible for the countless watt-chomping desktops and laptops used across the world. Or, you know, those huge fields of factories in the Middle Kingdom and elsewhere.
Some companies, the activists noted, have been remarkably proactive, with Apple, Google, and Facebook all being praised for transparency and for a growing use of renewables.
"Google maintains its leadership in building a renewably powered internet, as it significantly expands its renewable energy purchasing and investment both independently and through collaboration with its utility vendors," Greenpeace wrote. "Facebook continues to prove its commitment to build a green internet, with its decision to locate a data center in Iowa driving the largest purchase of wind turbines in the world... Apple is the most improved company since our last full report, and has shown itself to be the most innovative and most aggressive in pursuing its commitment to be 100 per cent renewably powered."
Apple announced in March 2013 that its flagship Maiden, North Carolina, data center had gone fully green after a punishing PR campaign by Greenpeace. However, the company's data centers accounted for less than two per cent of its emissions, compared with 61 per cent coming from the desolate smog-spewing factories from its Chinese device manufacturing partners
Though Greenpeace praised Google and Facebook it also noted that they, along with Yahoo!, eBay, Verizon Terremark and Microsoft, are part of the American Legislative Exchange Council – a group that frequently, Greenpeace alleges, is "committed to sabotaging the clean energy revolution and efforts to address climate change."
Greenpeace's report followed the similar How Green Is Your Cloud report which was published in mid-2012. Since its publication Apple and Microsoft have improved their use of renewables and Amazon has remained at the top of Greenpeace's polluter pile. ®