This article is more than 1 year old
Hobbyist or hardcore? StarTech dual-bay Thunderbolt enclosure
Build your own 760MB/s storage, anyone?
Review The last couple of Thunderbolt drive reviews we've undertaken at Vulture Central tempted us to crack open the enclosures to see what made them tick. In the case of the GTech GDrive, substituting the supplied hard drive with an SSD proved it could turn over some respectable figures in this configuration.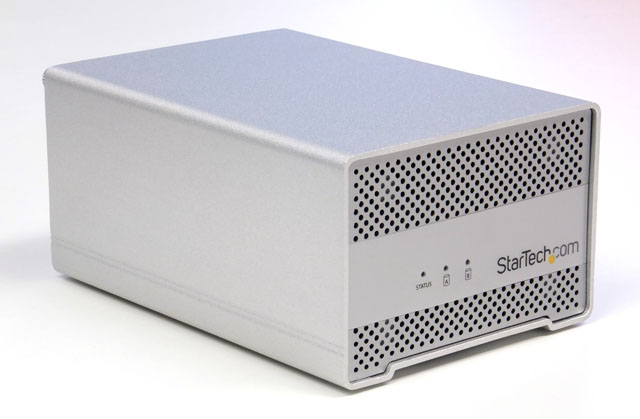 DIY storage: StarTech's S252SMTB3 2-bay Thunderbolt enclosure
Still, not everyone is going to be too handy with a screwdriver to split apart a portable drive casing without damaging it, as we discovered. For the less adventurous, StarTech's dual-bay Thunderbolt enclosure for 2.5-inch drives looks like a much easier prospect. Even though it comes unpopulated, the StarTech S252SMTB3 still suffers from that Thunderbolt premium pricing. However, being a dual-drive bay it can be configured in stripe or mirrored arrays, which is handy.
The StarTech S252SMTB3 comes with a Thunderbolt cable, external PSU and a bag of screws for drive mounting. It has a very simple aluminium drawer-style arrangement that you affix to the drive to push and pull inside the enclosure where two SATA connections reside. A small fan is mounted on the hinged door at the back of the unit above the two 10Gb/s Thunderbolt ports.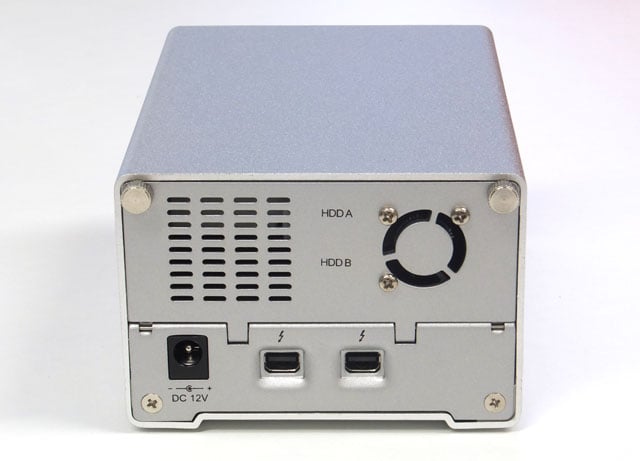 Two Thunderbolt ports enable daisy-chaining, but alas, no USB 3.0 option
Certainly having two ports is a major plus point enabling daisy-chaining to other storage devices, break-out adapters and a DisplayPort monitor. That's one of the disadvantages of the portable drives: they're end point devices that rely on a low power Thunderbolt controller to allow host-powering.
Talking of controllers, the StarTech enclosure is yet another device that relies on an AS Media ASM1061 SATA chip. Now, this has been a tricky customer in previous tests on both of the Elgato Drive+ portable SSD and GTech GDrive mobile Thunderbolt drives. However, problems with drives not mounting on Windows machines were corrected by downloading the AS Media driver that Elgato makes available on its support site.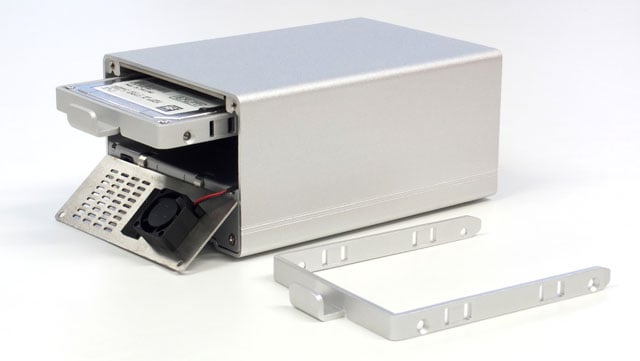 Drives need to be screwed onto metal drawers to slot them into the enclosure
When it comes to getting the StarTech Thunderbolt enclosure up and running on Windows 7, the result was exactly the same as on the previous tests: the drive won't mount until you install the AS Media driver.
The situation on Mac OS X is hassle free, as was the case with the Elgato and the GTech. The only time the Mac comes unstuck is with Boot Camp running Windows 8.1. Alas, this configuration does not play nicely with Thunderbolt and Apple's suggested fix for this doesn't do the job reliably either.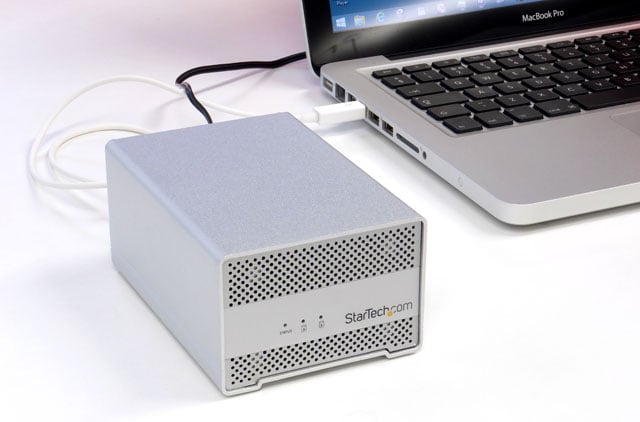 Still a bit on the bulky side, despite being for 2.5-inch drives only
Luckily, I've had extended use of an HP ZBook 17 mobile workstation – which features Thunderbolt and by default has Windows 7 installed. While it's been a godsend for testing lately, it doesn't work perfectly until the AS Media driver is installed. Also, as luck would have it, Vulture Central was sent two Intel 730 480GB SSDs for review recently – ideal for testing the real world throughput potential of the StarTech in stripe mode.