This article is more than 1 year old
Is this photo PROOF a Windows 7 Start Menu is coming back?
Screenshot hints at yet another attempt to fix the desktop
Build 2014 Microsoft seems willing to try almost anything to increase the use of Windows 8 these days – including rolling back some of the software's least-loved features, and even giving it away for free in some cases.
The latest batch of tweaks to Redmond's latest OS comes in the form of the Windows 8.1 Update, which shipped to MSDN subscribers on Wednesday and will become available to the general public via Windows Update beginning on April 8 (the day Windows XP support officially ends).
Among the major benefits of Windows 8.1 Update are user interface fixes that make touchscreen-friendly Windows 8 easier to use with a keyboard and mouse – an apparent concession to the millions of Windows users who don't share Microsoft's recent zeal for smartphones and tablet computers.
But at the annual Build developer conference in San Francisco on Wednesday, Terry Myerson, executive vice-president of Microsoft's operating systems group, hinted that even more dramatic changes are on the way, including some that seem designed to convince Windows 7 holdouts to upgrade.
"I'm not here to announce the next version of Windows," Myerson said. "But I am going to share that we are going all-in with this desktop experience, to make sure your applications can be accessed and loved by people that love the Windows desktop."
("Going all in with this desktop experience" is a startling choice of language given the company's "Mobile First – Cloud First" strategy, by the way.)
Putting the 8.1 Update aside, Myerson said that, among other forthcoming features, users will be able to launch Metro-style Windows Store apps inside on-screen windows, and stack, resize, and minimize them alongside traditional desktop applications. (The Windows 8.1 Update already adds the ability to pin Windows Store apps to the desktop Taskbar.)
Myerson also said that Microsoft planned to "enable your users to find, discover, and run your Windows applications within your Start Menu" – and to illustrate what he meant, he briefly displayed an eyebrow-raising screenshot.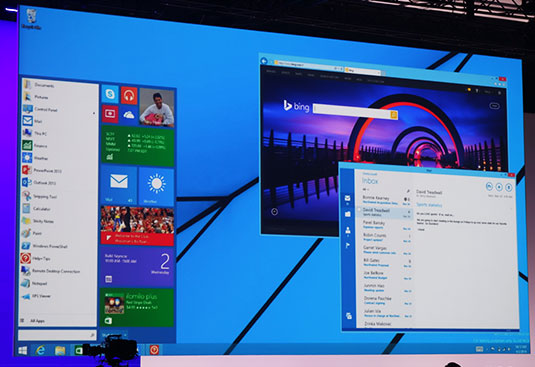 Is this the future face of the Windows 8 Start Menu? (Click for a huge version)
In it, a Windows desktop user has opened what looks like a hybrid of the Windows 7 Start Menu and Windows 8's Start Screen, with Windows 8–style Live Tiles stacked alongside a column of traditional application launcher icons, where the icons appear to include both desktop applications and Windows Store apps.
Myerson didn't say when this next Windows makeover would ship to customers, but he did say that Microsoft "will be making this available to all Windows 8.1 users as an update."
Send no money now
Myerson also confirmed that Microsoft will be offering a radical new incentive for small device makers, by giving them access to the Windows OS for free.
Redmond is hard at work on a version of Windows for the so-called Internet of Things, he said, and when that version is ready, it will be made available at no cost.
What's more, Myerson said, as of Wednesday, Microsoft is now offering Windows for free for phones and tablets with screens smaller than nine inches.
This isn't the first time Redmond has offered such a discount. The software giant reportedly waived its Windows Phone licensing fees for handset makers in India earlier this year, for example. But it is the first time Microsoft has committed to offering a zero-cost OS to its device OEM partners worldwide.
As for when the version of Windows for the Internet of Things would arrive, however – or the next major update to the Windows 8 desktop – Myerson cautioned that unlike many of the announcements made at Build, the things he discussed in his portion of the keynote were "not coming in the next few days or weeks." ®