EMC intros data protection-as-a-service: You shall D-PAAS
Firm faces up to virtual reality
---
As the world is moving towards software-defined data centres with infrastructure components virtualised and delivered as a service, data protection appears to be going the same way.
EMC has gone and boosted its offerings to do just this.
The company says it is adding "new integrations with primary and protection storage platforms, and with hypervisors and enterprise applications, while extending support for cloud environments and delivering new technologies that enable data protection-as-a-service delivery."
There is a release of EMC's Data Protection Suite, which consists of:
Avamar
Networker
Data Protection Advisor
Mozy
SourceOne
Yet not Data Domain, or so it seems at first glance – but wait for a paragraph or two. EMC says the suite now gets:
Snapshot Management for Isilon, VNX and NetApp arrays
Integration with VMware vCloud Suite and Microsoft System Center Virtual Machine Manager
Full integration between Avamar and Data Domain
Improved security features and new Linux support for Mozy public clouds
Data Domain operating system
EMC says this is a new Data Domain OS, implying it's not a new release of the system. It features:
DD Boost for Enterprise Applications with support for Oracle, SAP products, the SAP HANA platform, IBM DB2 and Microsoft SQL Server, which should speed their backup runs
Secure multi-tenancy feature for cloud deployments enables secure isolation for large enterprises and service providers
Support for one billion files, improving Data Domain's usability for archiving
EMC says DD OS can be a protection storage platform in data protection-as-a-service deployments.
VPLEX and RecoverPoint releases
The two are combined to craft MetroPoint topology, which is a 3-site business continuity offering. It integrates VPLEX Metro continuous availability with RecoverPoint remote replication and continuous data protection (CDP) to provide operational and disaster recovery over any distance.
VPLEX Virtual Edition has been introduced to deliver continuous availability and data mobility in a software deployment, said to be low-cost, and opening up VPLEX for use by smaller customers. This VPLEX VE will be included in some VSPEX template configurations.
To help customers choose from EMC's multiple data protection offerings, it has a "Blueprint for Backup Architecture" service. With it EMC bodies consultants check over a customer's data protection situation, make suggestions about using EMC's products to improve things and then provide a roadmap to get to that recommended state, which involves data protection as a service.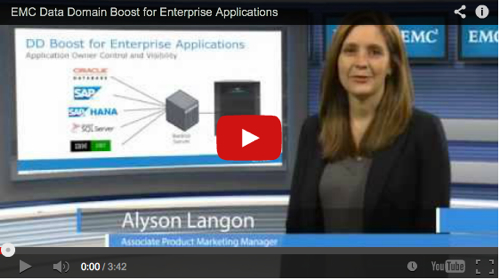 EMC Data Domain Boost video. Click to play.
EMC's Deepak Mohan, a product development SVP in the Data Protection and Availability Division, claimed in a blog that there were industry firsts here:
The first standard backup API for VMware cloud providers with integration via vCloud REST API extensions
The only NAS snapshot management solution offering bi-directional catalogue awareness for backup and storage admins
The industry's only enterprise application-integrated data protection
The first virtual appliance implementation of a multi-site storage virtualisation offering
The first product delivering 3-site continuous availability, disaster recovery and operational recovery topology
He says the division is "expanding our portfolio to include availability and mobility with VPLEX and RecoverPoint."
His blog has four videos looking at Networker Snaps, DP as a service, Data Domain Boost for enterprise apps, and VPLEX Metro technology
All these new EMC data protection products will be generally available in the second quarter of this year. The Blueprint for Backup Architecture service is available now. ®