Google teases more modular smartphone details in run-up to dev meet-up
Project Ara/Phonebloks handset preparing for debutant ball later this month
---
Vid Google has posted a video that provides a few more details of its "Project Ara" modular smartphone effort, perhaps to drum up interest in the upcoming Ara Developers Conference to be held later this month.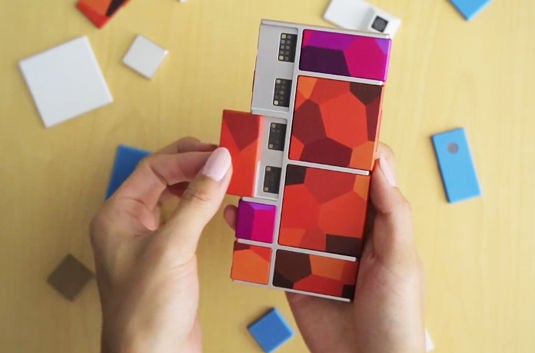 Want to upgrade your Wi-Fi from 802.11n to 802.11ac? There should be a module for that
Project Ara's provenance has been a bit of a winding road. It began with the "Phonebloks" concept floated by Dutch industrial designer Dave Hakkens in September of last year, which excited enough interest online to inspire Hakkens to take the idea to several phone manufacturers.
As it turned out, Motorola had been investigating a similar modular phone idea for over a year in an effort it called Project Ara, and so in October Hakken and Phonebloks teamed up with what was then the Google-owned Motorola Mobility's Advanced Technology and Projects group to advance Project Ara.
Next, Lenovo snapped up Motorola Mobility from Google for a cool $2.91bn this January, but the online ad-slinger and hardware wannabe kept its hands on the tech research group, renaming it – reasonably enough – the Google Advanced Technologies and Projects (ATAP) group, which continued work on Project Ara/Phonebloks.
Hakken's original concept behind Phonebloks was to create a phone that could be easily repaired simply by swapping out malfunctioning components, thus reducing the amount of dead electronics swelling landfills.
The Project Ara phone extends this idea to allowing a user to configure their handset to their own needs and desires by combining – or upgrading – individual hardware modules containing such functional elements as communications, Wi-Fi, cameras, application processor, storage, Bluetooth, or whatever suits their fancy.
That fancy can be extensive or limited. As Time magazine reported this February, Project Ara's target price can be as low as $50 for a phone "that's so basic it comes with only Wi-Fi, not a cellular connection."
Project Ara components can be mixed and matched, inserted into various sizes and shapes of a handset's "endo" – what Motorola has dubbed the phone's endoskeleton module-holding frame. The modules are held in place by electropermanent magnets, and can be moved from endo to endo, should the user so desire.
Since the components remain in place due to the magnets, ATAP's head of design Dan McCloskey says in the video released Thursday, the team chose not to cover the modules, but instead decided that the best design route was "embracing this block and modular aesthetic – it was part of the phone."
As McCloskey explains is true aesthete-speak, "Perhaps the best design statement we could make was that this phone can flow and adapt just as much as our lives can flow and adapt. And that in itself is an aesthetic."
The video also contains footage of Jeff Blank, VP of engineering at 3D Systems, which partnered with Motorola last November to use 3D printing to create the modules for the handset.
Also appearing and showing a brief demo of the Project Ara user interface is Eric Gunther, cofounder of Sosolimited, the design house working on the UI for the Ara Configurator app. According to Gunther, the app "lets you browse through the world of Ara parts and put them together and try them out in different phone configurations."
More about the handset and its open source ecosystem plans will undoubtedly be revealed at the Ara Developers Conference on April 15 and 16, which will be held online for free at www.projectara.com, except for "a limited number of in-person participants" at the Computer History Museum in Mountain View, California. ®