Intel uncloaks next-gen 'Braswell' Atom, 64-bit Android KitKat kernel
Oh, and the demise of Windows XP? That's just delightful!
On the second day of its developers conference in Shenzhen, China, Intel revealed the codename – "Braswell" – of its next-generation Atom processor for low-cost mobile devices and a 64-bit Android KitKat 4.4.2 kernel, and outlined its belief that a "large resurgence" is coming to the desktop market.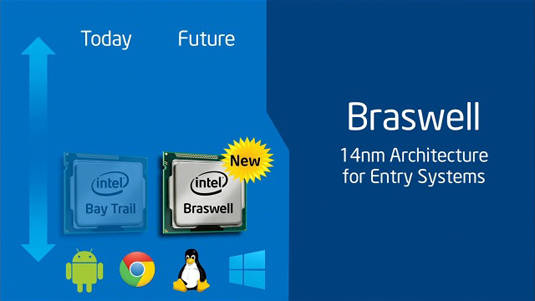 It's in the future, it's 14nm, it's entry-level – and that's about all we know about Braswell
"Today I want to announce the code name of the next-generation Atom microarchitecture–based PC called Braswell," Intel SVP and GM of the PC client group Kirk Skaugen told his keynote crowd. "It'll be a leading 14-nanometer technology, delivering even lower bill-of-material (BOM) cost and higher performance."
Unfortunately, that's exactly all that Skaugen revealed about Braswell. That bit about a lower BOM cost, however, was key to his Chinese audience, as China now purchases more PCs than any other country in the world, and continues its rise as a major player in a market that Skaugen said now represents more than 300 million units annually and over $200bn per year in systems revenues alone.
"And more than 50 per cent of the China systems that are developed here," he said, "are for the rest of the world." All else being equal, the lower the BOM, the more profits Chinese ODMs will rake in from its overseas sales – although, of course, all hints are rarely if ever equal.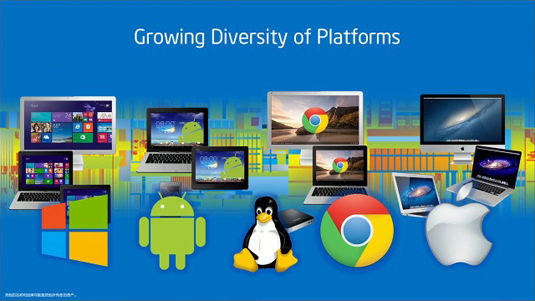 'Even Linux' made it into Intel SVP Kirk Skaugen's pantheon of platforms
As was to be expected, Skaugen also pumped his belief that Intel's chips are the best, hands down, for all operating systems. "Whether you are excited about Windows, or Android, or as Chrome comes to China and the rest of the world, or even Linux," he said, "all of our products will run best across those operating systems."
If you're one of those excited about Android, Intel VP and GM of the software and services group Doug Fisher had some news: "Intel is the first in the industry to deliver a 64-bit kernel for Android," he said. "We're bringing that to the market."
To accompany that release, Intel has also set up an Android on Intel Platforms resource site, where devs can download kernel installers (for limited systems at this time) along with such resources as source code, documents, and specs for Android on IA.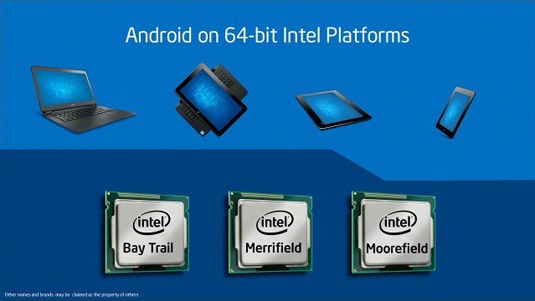 'Gimme a break, gimme a break, break me off a piece of that KitKat kernel'
Fisher said that although Android remains a 32-bit environment, the kernel will still provide performance enhancements, and he showed a ray-tracing demo that did, indeed show some improvement – though to this reporter's eyes, the speed-up was far from truly impressive.
In addition to Braswell, Skaugen also mentioned Broadwell, the 14nm fifth generation Core processor line that he said was "on track, shipping at the end of this year." Broadwell, he said, would require 30 per cent less power – again, all else being equal – than its fourth generation "Haswell" predecessors.
He also said that Intel has "A vision of eliminating all wires from computing – wires for display, for charging, for docking, and for data transfer. A true 'no wires' personal computer." His focus during the keynote, however, was on wireless charging, which he called "a massive industry that's coming."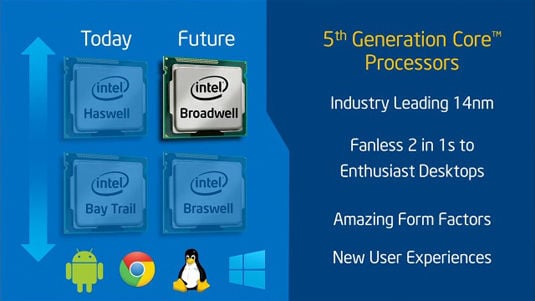 Intel's 14nm Broadwell Core processors are 'on track, shipping at the end of this year'
How massive? Today, he said, the wireless industry's annual revenue is around $216m – but he sees that growing to $8.5bn by 2018.
Skaugen also expressed great faith in the desktop PC market, a sector that, as all good Reg readers know, has been taking a beating recently – and he cited a thorn in the side of many an IT admin as the reason for his optimism.
"Desktop remains very strong," he said. "With the end of life of Windows XP around the world, we're seeing a large resurgence in desktop."
Cloud. Silver lining. You know the drill. ®