Titanfall pits man against machine, Kiefer Sutherland Snakes into Metal Gear Solid V
A call to arms
Game Theory Long have I wondered why franchises such as Battlefield and Call of Duty bother to include a single player entrée aside the multiplayer main course.
The solo campaign might provide action set pieces to demo at E3 and subsequently showcase on adverts, but if it was missing would anyone really care?
Titanfall
EA has decided to test the hypothesis by offering Titanfall without any real single player quotient to speak of. A ten minute tutorial is just about the only offline action you'll get, and then it's off to the front lines to pit man versus machine.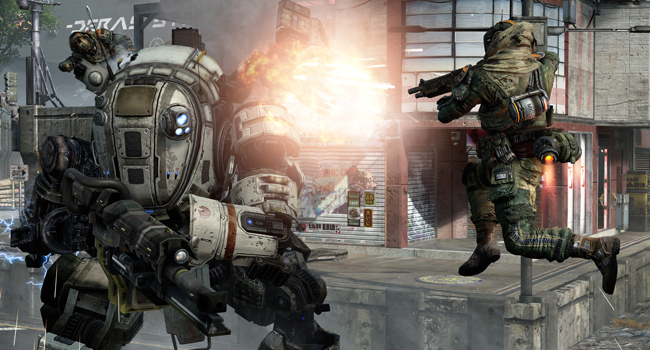 Full metal jacket
That's not quite the whole story. Even though Titanfall is a completely online game, it's not without a campaign mode. It has two, actually. First you'll fight for the rebellious Militia, before swapping sides to play as the Empire-esque IMC.
These story-led missions, telling the tale of an uprising on a distant human colony won't be winning any prizes for originality. But they do provide a small insight into how multiplayer FPS campaigns might engross us in the future. For now though, Titanfall's attempt falls short of greatness for numerous reasons.
For instance, rather than movie-based intros to missions, we get a static screen with a voiceover. And, instead of dynamic chapters, that change depending on success and failure, we get a rigid progression that barely registers success or failure. An opportunity gone-begging, if ever there was one.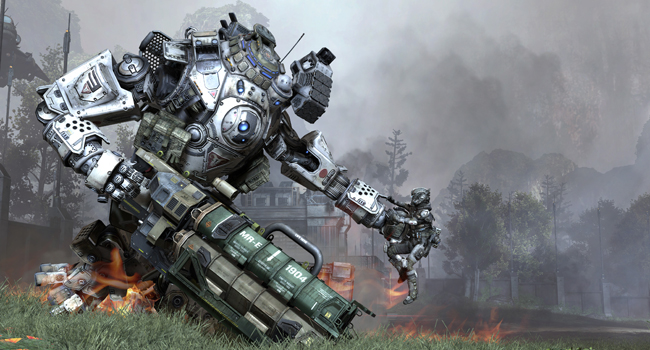 That awkward left-handed handshake
All's not lost though, for what Titanfall does give us – even if some might say controversially – is a feeling of epic battles. Each scenario might be limited to just 12 human players, but you'll also be accompanied by bots – not too unlike the droid army of Star Wars – while you're blasting away.
Though essentially cannon fodder, they do create a sense of squad-based combat. And I also enjoyed their continuous entry into the battle via drop-pods, so creating the feeling that there really is a huge flotilla of ships above raining down reinforcements.
The very same bots are also crucial to Titanfall's titular killing machines; for by downing enough bots and human pilots, you'll speed up the time to which you can call in your very own titan. Titans aren't game-changing, in that they bring anything particularly new to the FPS formula, but they are another ingredient to an already rich recipe.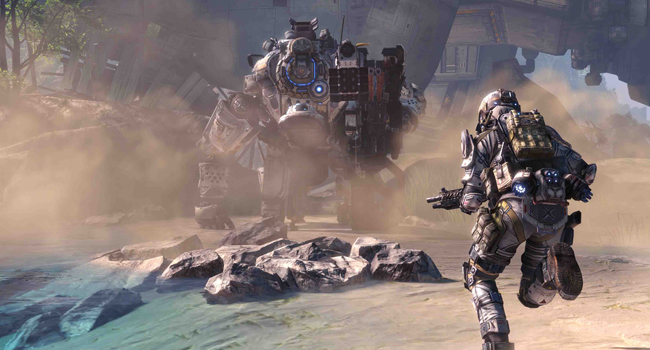 Running battle
Much like your pilot, you can customise them as you see fit, assuming you've unlocked extras by levelling-up. Then it's a case of shooting, dashing and stomping about the battlefield in a glorious, missile-dodging dance. At least, that is, until you sustain so much damage that it's time to hit the eject button.
Yet it's on foot where you'll spend the majority of your time, with warfare amongst pilots being smaller scale and more tactical. That pilots can parkour across walls and up-and-over obstacles has been hyped almost as much as the titans themselves. Sure, it takes a while to marry acrobatics with accuracy, however, the potential for balletic kills is only a moment of inspiration (or luck) away.
Of course, any online shooter is only as good as its gameplay modes and Titanfall's are on the safe side of predictable. There's a variation on Capture-and-Hold, a straight laced take on Capture-the-Flag and the obligatory deathmatch option. "Last Titan Standing" does exactly what you'd expect, while "Attrition" mode sets both teams a points total to meet. Something very similar to Battlefield 4's Conquest mode in practice.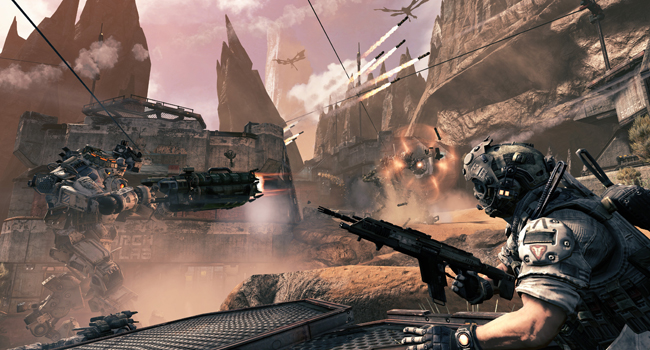 In the firing line
I think it's a fair assessment to say that Titanfall offers thrills and spills but, perhaps, a disappointing lack of real substance. I'd have loved the title to have fully explored the potential for a dynamic online campaign, but sadly that side of things is rather undercooked.
That said its relentless battles are enough to set the pulse racing, while wall-running – not to mention piloting metal behemoths – certainly adds layers of spice. All in all, it's a game I can whole-heartedly recommend, although perhaps not quite the next generation innovator I had anticipated.