This article is more than 1 year old
Torvalds rails at Linux developer: 'I'm f*cking tired of your code'
Kay Sievers banished to fuming Finn's doghouse
Never one to mince words, Linux kernel chief Linus Torvalds has once again handed a verbal smackdown to a Linux developer, this time for failing to address a serious bug that could prevent systems from booting.
The target of Torvald's latest tirade was Kay Sievers, one of the key developers of systemd, a system-management daemon that isn't part of the kernel but is among the first software to launch when Linux boots.
What set the irascible Finn's blood boiling was kernel developer Steven Rostedt's discovery that when a Linux system is started with the "debug" option enabled, systemd can flood the system's logging services with so much information that it will fail to boot.
"Key, [sic] I'm f*cking tired of the fact that you don't fix problems in the code *you* write, so that the kernel then has to work around the problems you cause," Torvalds fumed, adding that he wouldn't merge any more of Sievers' code into the kernel until he cleans up his act.
Other kernel developers wasted no time proposing solutions to the issue, the leading candidate being to add rate limiting to the kernel logging services so that they truncate excessive output. But Torvalds is notoriously reluctant to make changes to the Linux kernel to address bugs found in other software, and in this case the issue seemed personal.
"It's really sad that things like this get elevated to this kind of situation, and I personally find it annoying that it's always the same f*cking prima donna involved," Torvalds wrote.
He later added on a Google+ thread, "So this really really doesn't make me want to ever work with Kay Sievers, because this all just reinforces the fact that he just doesn't care if his changes cause other projects pain."
For his part, Sievers appeared unmoved by Torvalds' outburst. After posting a tongue-in-cheek status update to Google+, he reposted a missive by Lennart Poettering explaining that the systemd developers would address the issue with a software patch.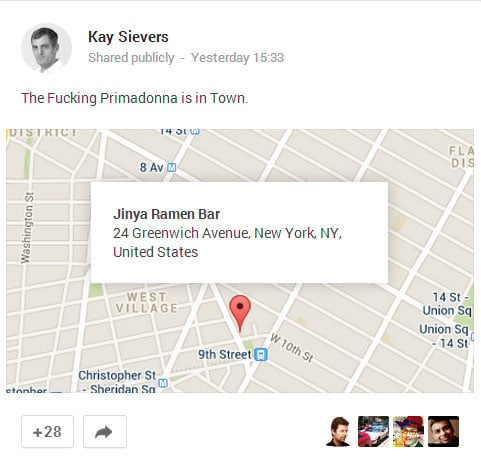 Kay Sievers took Linux main man Torvalds' criticisms to heart on Thursday
Regarding Torvalds' threat to reject his code from the Linux kernel, Sievers added that he wasn't planning to submit any:
my last kernel patch is more than a year old, my last non-trivial kernel patch 2 years old. i stopped working on the upstream kernel "long ago" for reasons i cannot stand the attitude of these guys, i decided to work with grown up or funny, or grown up and funny people instead and i enjoy it a lot more. not sure what this childish blackmail attempt relates to.
As of Thursday afternoon, the problems with systemd were reportedly fixed. ®