This article is more than 1 year old
Microsoft's Windows 8.1 updates also tweak Windows Server 2012
Redmond to tame tiles for sysadmins
Microsoft made a stack of announcements last week and you could be excused for thinking they were all about Windows 8, Windows Phone and "universal apps". But Redmond also made a few handy tweaks to Windows Server 2012 R2. It's easy to see why the Windows Server changes have been largely ignored. And I do mean see: here's the contents of the .ZIP file for this month's MSDN and TechNet downloads:

Windows Server sysadmins could be excused for deciding there's nothing for them in this lot
Two things stand out in that screenshot. One is that it is not the single update we're used to! The second is that none mention Windows Server. The accompanying ReadMe file contains a recommended installation order for these updates:
KB2919442 - "A servicing stack update is available for Windows RT 8.1, Windows 8.1, and Windows Server 2012 R2"
KB2919355 - "Windows RT 8.1, Windows 8.1, and Windows Server 2012 R2 Update"
At the time of writing, the rest are currently not listed on Microsoft's support website:
KB2932046
KB2937592
KB2938439
KB2949621
This seems looks simple enough. I thought I'd test this on a new Windows Server 2012 R2 box I'd just set up at home. The first update installed quickly and is actually publicly available along with the second listed, but the second took a much longer time to install (due to it being the major part of the update). In fact it took so long for KB2919355 to install I began to think my machine had hung … until about 20 minutes and a reboot later, plus a few more minutes spent 'working on updates'.
Update KB2932046 is another quick one, but requires another reboot.... but after the reboot, it takes another few minutes to start up. KB2937592 is the smallest update at 303KB and takes a second or two to install. Following that is KB2938439 which requires yet another reboot. The final update is KB2949621 which has a v2 name I didn't need to install as it 'wasn't applicable to my computer'.
I decided to test this on a Windows 8.1 PC without any of the other patches as I like to live dangerously, but again it denied installing for the same reason. In a few days when the full Update goes live, we should know more. So, what has changed from the user's perspective? Here's a look at one minor-but-important change.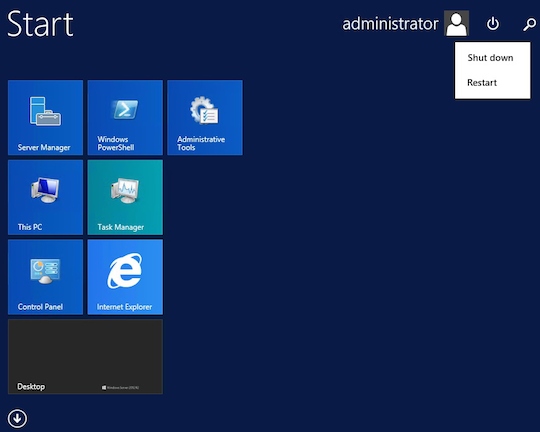 Shutting down Windows Server 2012 just got a little bit eaier
One of the bigger complaints about Windows Server 2012 onward was the placement of the shutdown and restart options. They started off in the charms menu, and with the R2 release they were also added to the right click menu from the re-added start button. Now there's a third way, which is on the main tiles screen and rather in your face.
Such a simple addition should cause less confusion to new Windows Server 2012 users, and with the other two ways still available to veterans too this is a handy change.
Next to the shutdown button is a search button. I'm inclined to believe that this is more for new users to the current generation of Microsoft operating systems who haven't realised you can just start typing anywhere on the start interface to search, which should at least help smooth over the more jarring experience of using Windows 8 or Server 2012 onward for the first time.
Another simple yet effective change is the right click menu on tiles from the start menu:
Windows Server 2012 now gives BOTH mouse buttons something to do on the TIFKAM home screen
These options are the same as before the update, but they were previously located at the bottom of the screen when right clicking. To many users this made no sense as you had to move your cursor or finger (if someone happens to be doing server tasks from a touchscreen!) far away from the tile you're worried about. Apart from that, you can now pin Windows Store apps on the task bar, but I've yet to hear of anyone who's actually installed a Windows Store app on a server.
These updates will appear on Windows Updates from April 8th, and will hopefully also become available to WSUS (Windows Server Update Service) for sysadmins in a similar timeframe. ®