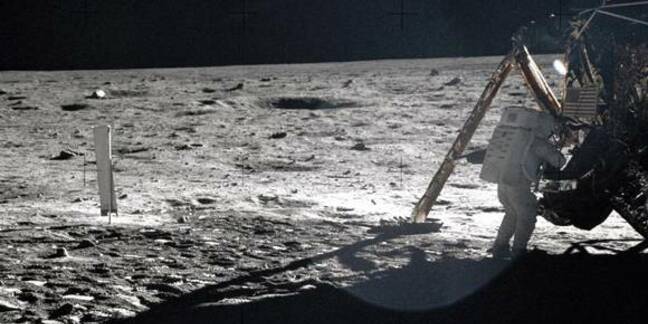 Looking to own a piece of space history? Have a spare $50,000 to spend? You may be in luck, as a US auction house is placing a series of artifacts from the US and Soviet space programs on the block.
Auction house Bonhams is set to offer a collection of items ranging from the early first manned spaceflights to the last Apollo Moon missions in its Space History sale.
Among the items up for auction Tuesday will be memorabilia from the Apollo 11 mission of Neil Armstrong, Buzz Aldrin and Michael Collins, as well as artifacts signed by or used by crews of the Apollo 11-15 missions.
One of the items expected to bring the highest bids is the emblem worn by Collins aboard the Apollo 11 mission and signed by all three members of the crew. At just six inches square, the patch has been appraised at $40,000-60,000.
For those looking to get a bit closer to the Moon missions, Bonhams is going to auction off a Moon-dust sprinkled strap from the Apollo 12 lunar module that originally collected by Apollo 12 Mission Commander Pete Conrad.
Other Lunar artifacts expected to fetch a high price are signed copies of Aldrin's Apollo 11 lunar landing checklist (estimated at $35,000-45,000), a flag carried by Fred Haise on the aborted Apollo 13 lunar mission (priced at $15,000-$20,000) and an autographed casting of Aldrin's moon boot ($20,000-$30,000).
Additionally, the catalog will include books and memorabilia signed by Russian cosmonauts Yuri Gagarin (the first man in space), Valentina Tereshkova (the first woman in space) and Alexei Leonov (the first person to conduct a spacewalk.)
Russian space program buffs will also be able to bid on a pair of Cosmonaut rescue suits ($2,500-$3,500 and $15,000-$20,000, respectively) and rare models of the Soviet Vostok ($10,000-$15,000), Angara ($6,000-$9,000), Proton ($500-$800), and Soyuz ($1,200-$1,800) rockets.
For those looking to spend a bit less, the auction house will be offering up signed photos of the Mercury astronauts and craft (priced at $200-300) or a pair of prototype trousers for early space shuttle crews ($700-900). ®
Sponsored: Practical tips for Office 365 tenant-to-tenant migration