Lights out by 1997. Not quite.
The DoJ said IBM had eliminated competitors using the price of its machines, software and services and by through the use of bundling. It wasn't until 1982 that the DoJ dropped its suit, when IBM's market share had fallen to 62 per cent and a new computing power was in the ascendancy - the personal computer.
The original six S/360s were succeeded by newer models and eventually the S/360 line by the S/390 and zSeries. The rise of the x86 PC and server bred a belief about the "inevitability" of the death of the mainframe. Typifying these was venture capitalist and former editor-in-chief of InfoWorld Stewart Alsop, who in 1991 said: "I predict that the last mainframe will be unplugged on March 15, 1996."
Yes, mainframes have been turned off. NASA, one of the first on S/360, turned off its last Z machine in February 2012. Long-time mainframe shop Amadeus, the travel booking hub used by airlines and hotels, turns off its last mainframe this year.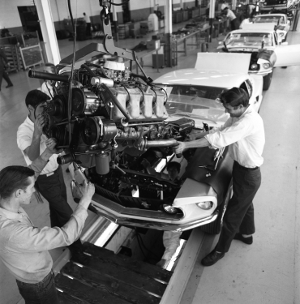 Ford spun up brand-new business lines thanks to IBM
Mainframe sales, like market share, have fallen, and IBM is ruler of a reduced kingdom. The worldwide market for Complex Instruction Set Computing (CISC) - the architecture used in mainframes - was worth $5bn in 2013 versus $48bn for other CPUs, according to IDC. IBM holds 81 per cent of that market.
But while S/360 is gone, its descendants are holding on. With mainframes running critical functions and holding so much data that's vital to businesses and customers, turning off that last mainframe has proved an impossible task.
In fact, the mainframe has been enjoying something of a renaissance thanks to mobile computing the web and cloud.
The ability to book travel online or access your bank account through a smartphone have seen consumption of MIPs - millions of instructions per second used to measure mainframe computing - grow by an average of 41 per cent, according to data from Compuware. Eighty-one per cent of CIOs believe the mainframe will remain a "key" business asset for another 10 years,
IBM's Customer Information Control System (CICS) is the application server/operating system used to manage transactions on mainframes; 70 per cent of mainframe shops plan to expose their CICS systems to the web, according to a 2013 Arcati study last year. IBM's DB2 database and IMS on the mainframe are going the same way.
IBM senses a fresh opportunity.
Sales of the mainframe might be a shadow of what they were, but they are stable - around $5bn year each year since 2009 says IDC, down from $6bn in 2008. The difference was the 2008 economic crash, when banks cut their IT budgets.
IBM has been marrying that to two trends and use cases: cloud servers and analytics engines and bread-and-butter business servers in the enterprise.
The cloud is a significant departure to the past, given this has been the preserve of distributed x86, with companies like Google, Facebook and Twitter packing tens of thousands of branded and custom x86 boxes into vast data centres.
IBM has delivered the BC12 zEnterprise capable of running 520 virtual Linux servers at a claimed cost of $1 a day. IBM also bought SL International for virtualisation management on the zEnterprise for $20m - IBM's first act of mainframe M&A since Platform Solutions in 2008 to run zOS on non-IBM hardware.
We asked to speak to a mainframe customer, and rather than a traditional bank or airline, IBM gave us a nine-month-old cloud startup - L3C, which is running the BC12. L3C is IBM's newest mainframe customer, buying its BC12 in December 2013.
L3C's business is part infrastructure, part software-as-a-service: it offers mainframe-as-a-service for others, hosting Oracle database software, e-commerce and CRM hosting, and virtual machines for dev, test and deployment. Target customers are telcos, banks and financial services and IT companies.
Managing director and founding partner Lubomir Cheytanov said he went mainframe rather than x86 for reasons of cost and management.
While the BC12 is more expensive up front than the average x86 server, starting at $75,000, Cheytanov reckons he can save by the fact he can pack in more virtual machines on the server than on the average Intel blade. This will save on physical space, power and cooling while the job of administering by a human will be simpler because the mainframe is more reliable - again helping save on costs.
"I will be a lucky man if I have to put a second [BC12] in," said Cheytanov – referring to the huge amount of scale provided in his new mainframe.
Given one year and just 20 paying customers, Cheytanov reckons he could soon be cash-flow positive and have recouped his initial outlay.
Arguably, IBM's best move for the mainframe was putting Linux on the System Z mainframe descendants of the S/390. Jose Castano, IBM director for System Z, claimed more than 70 new clients, with most - 60 per cent - using Linux. The Linux-on-mainframe business is growing at a compound annual growth rate of 30 per cent, he said but wouldn't break out actual numbers.
On the other end of the spectrum are the mainframe old guard: banks, financial institutions and public sector, expanding consumption or buying brand new.
You can bank on it
RBS is an example of one customer buying more - spending £450m on brand new mainframe and estate at the HQ in Edinburgh to make up for the 2012 outage. Others, like Nationwide, are consolidating data centre ops, Castano said. Still others have been starting up new operations on mainframes, rather than going x86. Banks in emerging markets like China, where mainframes sales have grown, have gone Z-series during the last 10 years and upgraded as IBM has released new products.
Castano, meanwhile, also reckoned on another category of enterprise use: those running analytics and serving up Java applications on their zOS.
IBM was catering to this market when it released the zEnterprise EC12 in 2012. The child of a $1bn R&D effort, the machine offers 25 per cent better performance and 50 per cent more capacity than its predecessor, Big Blue claims, with 100 configurable cores. It has also created mainframe configurations that work with x87 and Power blades.
Why would customers, even those starting from scratch, go mainframe – apart from the performance or ROI factor? IDC server and cloud research manager Giorgio Nebuloni points to the roadmap. Now, just as in 1964, IBM offers something you can bet on over the long term.
Nebuloni said: "IBM have been very clever in that they didn't just monetise the mainframe - they created a platform for the customer and said: 'You have critical applications on this. We promise you, we will support you. We have roadmaps spanning five to 10 years. If you are around in 10 years we will be there to support you'."
Indeed, IBM does seem rather committed to the mainframe. Fifty years after the S/360, it was IBM's x86 servers business that had been sold, not the legacy mainframe unit – despite the fact that it was x86, the distributed server, which was supposed to be the future. The sale followed the selling of the x86 PC business in 2005. Both have gone to Lenovo.
Why would IBM keep one and not the other? One reason could be profit margin. Margins on x86 servers run between 15 and 30 per cent but on mainframes and Unix it's more than 50 per cent. The revenue mostly comes from the sale of software licences. IBM dumped the PC business because it couldn't make a decent profit on that either.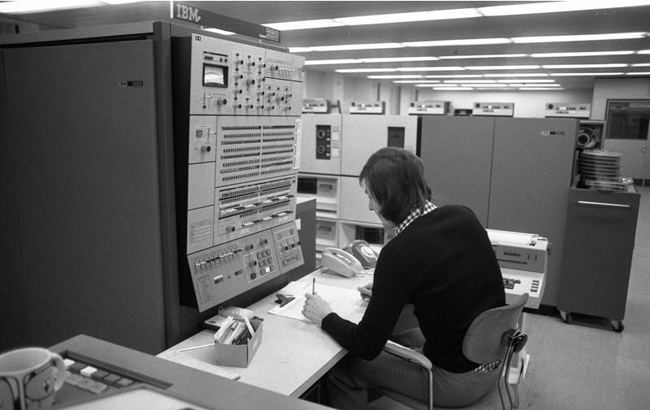 Ford rival Volkswagen shared common ground on love of the S/360
What's next? The BC12 provides a peek into the future of where IBM is looking, Castano says. He promised more work on speed via threads and with more bandwidth on the processor; he also said Big Blue would work on acceleration to speed apps without relying on just the processor. There will be more work on solid-state drives, analysis of machine data, and support of open standards – especially in virtualisation.
Castano claims cloud is the re-incarnation of the mainframe service bureau and concepts such as virtualisation, metering and automation are concepts the world of distributed systems has only now realised it needs to catch up with. Plenty would agree.
And yet the picture is more complicated.
Watson's gamble certainly paid off for IBM and for the industry. What was perceived as a simple 10-year survival plan became a blueprint for IBM and for building computers as a whole - not just other mainframes but later PCs, too.
But let's not get too hagiographic. The S/360 wasn't a new idea, rather a successful intersection of new and emerging technologies.
What came with it was the industrialisation of computer manufacture on a grand scale to satiate demand and create the first mass market for computers. IBM did what American companies do best: manufacture and sell at scale.
Further, the legacy of the S/360 is still with us. Unlike some systems already forgotten or behind glass in a museum, the mainframe become so important to critical segments of society that they cannot be switched off.
And thanks to our appetite for Linux in the cloud and for web-scale computing, IBM's found a fresh outlet for a system that runs counter to everything we are told computing is today: cheap, open and a commodity. The mainframe is expensive and, at its core, it is also proprietary.
On the 50th anniversary, should we expect just one more decade for the mainframe as some CIOs are now saying? Will it be lights out in 2024?
No. ®