India's GPS alternative launches second satellite
Closed satnav system due to have all seven birds aloft by 2016
India has launched its second navigation satellite, the daintily-named IRNSS-1B.
IRNSS is an acronym for "Indian Regional Navigation Satellite System" and the name is noteworthy because the planned seven-satellite constellation is intended to provide location services within India and in an "extended service area" around the nation, rather than offering the global coverage other satnav systems promise (alone or in collaboration).
The local focus is because India wants IRNSS all to itself. That position is understandable: the USA's GPS, Russia's GLONASS, Europe's Galileo and China's Beidou are all controlled by states that could conceivably jam the systems' signals. With India perennially wary of its neighbours (and owning nuclear weapons), possessing its own satellite navigation constellation has obvious strategic importance. Limiting its effective range also shows the world that the system isn't a sign of global ambition, but lets India's neighbours know what it will soon be capable of.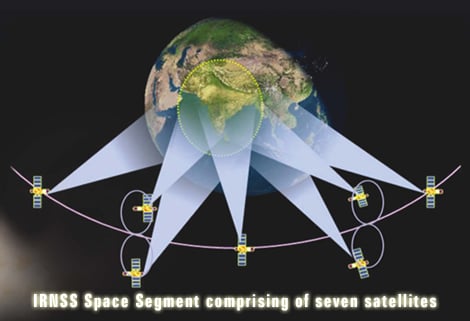 The footprint for India's Regional Navigation Satellite System
On a happier note, local companies will have an indigenous navigation platform to play with, which probably can't hurt but may mean complications for global device-makers.
India is trumpeting the launch for another reason: it marks the 25th time in a row the nation's Polar Satellite Launch Vehicle has done the business. Indeed, only its first flight failed. That all seven INRSS craft are expected to be aloft by the end of 2015, at a combined cost of under $US300m, is also noteworthy: India surely would not mind a slice of the global space business.
IRNSS-1B is currently in orbit with an inclination of 27 degrees, a perigee of 11,668 km and an apogee of 35,924 km, thanks to two orbital manoeuvres. A further three adjustments to the satellite's orbit are planned to ensure it nestles in an optimally useful position. ®